Staff Picks Weekend Live Streams – Alex Niggeman, Mathew Jonson, Danny Tenaglia, EGO, Into Emptiness
Friday 15th May – Into Emptiness Feat. Zeljko Dejanovic – Rasmus Vels – Paula
Date 15th May, 2020, 15:00 – 23:30 (CET)
 Test
In the 8th edition of Into Emptiness Live, i have invited to of my good friends, to play alongside me. The two musical guest are Željko Dejanović (Gestalt Records) and Paula (Oh My Set). They will bring some serious heat to the stream, with some lovely tunes!
LINE-UP
Paula (Oh My Set)
RASMUS VELS (Oh! Records)
Željko Dejanović (Gestalt Records)
Watch Live Stream
Friday 15th May – La Rêve Garden Sessions: Alex Niggemann
Date 15th May, 2020, 18:00 – 19:30 (CET)
https://www.facebook.com/events/238146340592871/
Because we are not allowed to see each other for a while, we bring the festival vibes to your home. Every Friday we are live from 6:00 PM with a stream of our favorite artists in a secret location. Dream with us and start your weekend with melodic tunes of your heroes. ♥
Line-up:
Alex Niggemann – Friday May 15 – 6:00 PM
Cliff de Zoete – Friday May 22 – 18:00
Olivier Weiter – Friday, May 29 – 6:00 PM
During the live stream, we offer the opportunity to make a voluntary donation to La Rêve and the artists who play with us. All donations will eventually be distributed 50/50 to the artists who run for you without a fee and to us as an organization so that we can continue to do such streams for you for free.
Watch Live Stream
Saturday 16th May – Electronic Generation Onwards (EGO) S03 E02 Quarantine
Date 16th May, 2020, 18:00 – 21:00 (CET)
https://www.facebook.com/events/3218476314853357/
We haven't seen each other for quite some time. We miss you. Enough information and misinformation for a moment, we want to take you on a journey. And although we long for watching you dance again, it is only in the capacity to satisfy our desire to share music with you, that we present ourselves. Here. So close to you, just on the other side of the screen.
On May 16th, meet us at Twitch, where we will be in livestream format, with our residents XCI, Khalil Suleman and Voltur
Do not be afraid. Come closer.
Watch Live Stream
Saturday 16th May – Beatport Wild Digital
Date 16th May, 2020, 17:00 (CET)
Beatport
We're thrilled to invite so many of our dear friends to join us this Saturday for the first-ever 'Wild Digital' 🌍
Together with Music Against Animal Cruelty, we're hosting 12 of the biggest names in dance music for a marathon stream, live and direct.
The broadcast will be in support of Music Against Animal Cruelty's fight to protect endangered species from poachers during the lockdown, and our campaign to end the illegal wildlife trade.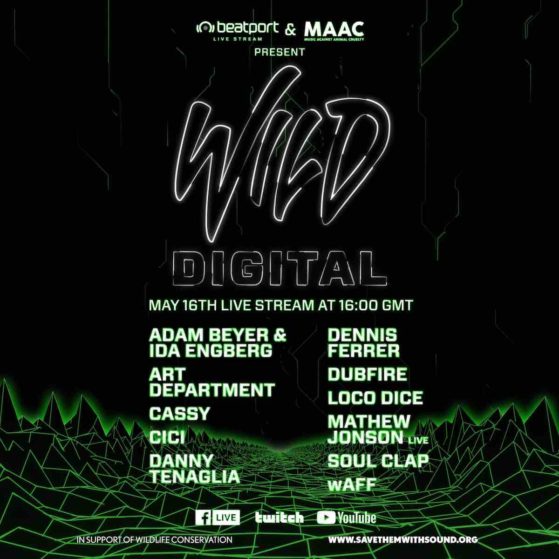 Watch Live Stream