Staff Picks Weekend Live Streams – Culture Box, Mano Le Though, Adriatique, DJ Tennis, BOg
Thursday 30th April – DJ Tennis Livestream from The Terrace
Date 30th April, 2020, 21:00 – 23:00 (CET)
https://us02web.zoom.us/j/7597124269
DJ Tennis takes on the Space Miami Terrace for an exclusive extended set filled with some special gems of his unreleased material, as well as new Life and Death, produced during his time in quarantine and self-isolation.
Undust your dancing shoes, Miami and beyond, it's time to safely rave from home.
https://us02web.zoom.us/j/7597124269
Meeting ID: 759 712 4269
Watch Live Stream
Thursday 30th April – BOg – Paris Livestream
Date 30th April, 2020, 21:00 – 22:00 (CET)
https://www.facebook.com/bogmusic/
BOg will be livestreaming from Paris on the 30th of April from 21:00 – 22:00, organized by Techno Me and You and Prestance Evenement.
Watch Live Stream
Friday and Saturday 1st and 2nd May – Solidarity is now with Mano Le Though, Adriatique, Jimi Jules
Date 1st and 2nd May, 2020, 12:00 – 02:00 (CET)
https://solidarity.zukunft.cl/
On May 1st and 2nd, 2020 2×14 hours of DJ sets and live performances will be streamed from Club Zukunft under the name SOLIDARITY IS NOW. While the coronavirus is leaving people in a state of uncertainty all over the world, it is important to continue to help the weakest. In recent months, cultural institutions and creatives have called for solidarity. SOLIDARITY IS NOW is a call for help for those who are in need of it.
Video-Stream + Donate here: https://solidarity.zukunft.cl
PROGRAM / LINE-UP
Mano Le Tough, Adriatique, Jimi Jules, Alex Dallas, Manuel Fischer, Kalabrese & Rumpelorchester, Lexx, Belia Winnewisser (live), Ron Shiller, Momo Love live aka. MoreEats, Princess P., Domi Chansorn live, DJ W.E.B. aka Walid El Barbir, Sentiment, Luca Durán live aus Amsterdam, Jamira Estrada, DAIF live, Gini (Annie Taylor) & Sonya live, HOVE / Light of Other Days, Dominik André, Melodiesinfonie, Kejeblos, Ethimm live, Jenny, PRIOLEAU, Domenico Ferrari live, Nicola Kazimir, Leo Gretener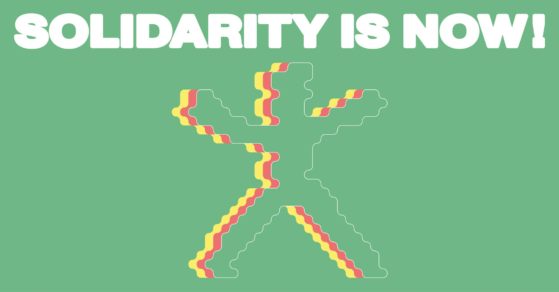 Watch Live Stream
Saturday 2nd May – Culture Box X Hackstage: Livestream
2nd May, 2020, 20:00 – 23:00 (CET)
https://www.facebook.com/cultureboxdk
Culture Box and the visual artists and tech-specialists from Hackstage present three local talents from the vivid underground of the electronic music scene. Each has an hour to show off their craft and style.
20.00-21.00: DJ Emma Schack (BGM8S Collective and Future Female Sounds)
21.00-22.00: Henriette Vindenes (Sounds Good)
22.00-23.00: Fap The Producer (Drumwerk)
In the Facebook comments below the stream link, we will provide you quality shots of knowledge on the artists and their music and be ready to answer whatever questions your heart is full of.
Secure our venue's survival and a home for the artists in electronic music. #supportculturebox and make a donation gf.me/u//xrkuys
Watch Live Stream
Saturday 2nd May – Square – virtual club | Attari • DC Salas | GRAND OPENING
2nd May, 2020, 20:00 – 00:00 (CET)
https://www.facebook.com/events/2151746838304636/
◼ About – short ◼
Square aims to virtualize social interactions of music events, bringing live stream experience to unprecedented levels.
First event on Zoom but we are developing our own platform.
◼ Line up ◼
10pm – Attari
8pm – DC Salas
◼ Experience ◼
On Zoom: you will see the artists playing live as well as other attendees. Your microphone will be muted for a better experience. The live chat allows you to connect and play with each other.
◼ Atmosphere ◼
🦋 Make sure to be equipped for the occasion (glitters, drinks,…).
🌖 Joy, Respect & Love are mandatory (zero tolerance).
🎲 We'll play some games to meet each other.LGBTQ+ friendly.
Watch Live Stream