TSC Cast #014 | Valano
Behind the name of "Valano" lies Valantis Likostratis as one of the most significant music figures inevitably connected with two Greek cities – Thessaloniki and Athens. Followed by the passion for electronic music since his early age, his music journey continues with George Absent, both becoming more and more noteworthy to the Greek audience, not just as DJs/Producers but also as creators of today's most reputable label in Thessaloniki – Us & Them Records.
Welcome Valano, our pleasure to have you featured! Let's start with your first music attempts. How did those attempts result with you being a DJ, producer and label co-owner viewing from today's point?
My first attempts in music started at the age of 13, when I felt in love with electronica. I found myself experimenting with different kinds of electronic music starting from trance (rave ages), progressive, techno, acid and ambient space rock through the years. This music journey helped me realise that all these sounds influenced me deeply through the sound I develop nowadays …
Speaking of music efforts, you are starting a new alias project of yours – Voices Of Valley. What is this all about and could you define its sound through the artists who influenced/inspired you?
Voices Of Valley is a new project in which I experiment with deep electronic sounds including melodic, melancholic feeling. Artists that inspired and influenced my music are Tale Of Us, Prince Of Denmark, Mind Against …
Bearing in mind that you are also running a record label, how did your path cross together with George Absent? What did you share and care in common? Furthermore, how easy was it for both of you to build such an established label as "Us & Them Records" in Thessaloniki?
I met Gorge 14 years ago in a local radio station called Safari FM. George was a radio host there. Some friends of mine were also friends with him and that is how we both met. We were also together in one of the best booking agencies in Thessaloniki called "Plus Thirty Bookings". Soon enough, we became a team and started making music together. We both shared the same passion – electronic music and, since making music wasn't enough for us, we decided to start our own label – Us & Them Records.
What is required for a track to be a part of your record-label family?
First of all, if we like the track we test it just to be sure that it can be released on our label. The track needs to have an identity and a sound that suits our label.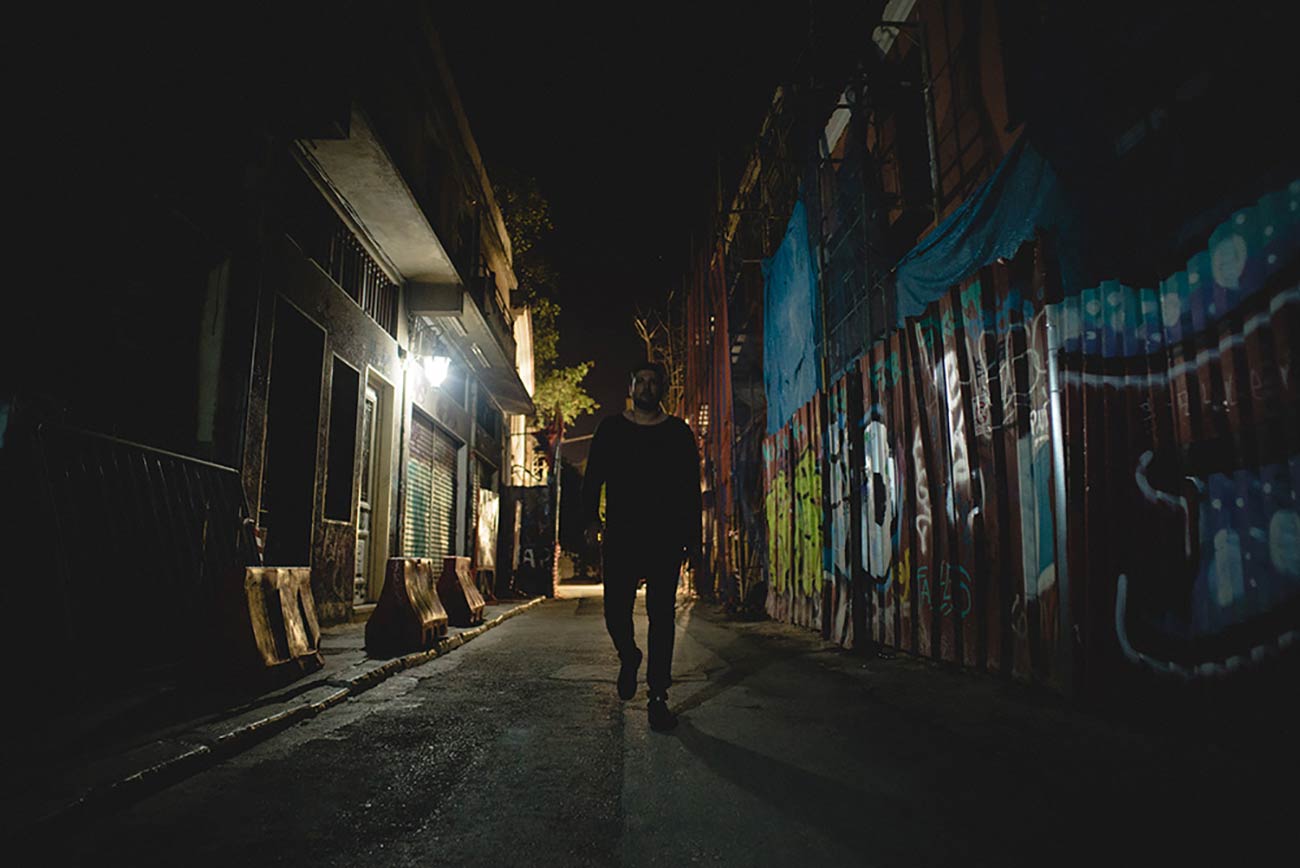 One of the locations that completes Thessaloniki's electronic music map is doubtlessly – Tokyo City bar. A place that frequently hosts your own nights. How often are those nights organised and what is the original idea behind?
2017 is the second year in which, Tokyo City bar hosts our label nights. A place where they take place once a month. It's a huge honour for us that one of the best locations for electronic music in Thessaloniki gave us the opportunity to share our own music passion together with other people.
Despite its perfect sound system – "Funktion-One", what else makes your nights at Tokyo Bar a must-be place? 
Our DJ guests, its dark underground atmosphere and of course, the crowd that leaves the place at 10 o'clock in the morning.
Valano, your recent event included another Greek talent – Nick Devon. Can you share some details how that night went, and which other names can be expected there in the nearest future? Moreover, would you mind revealing some artists whose names are going to be released on your label?
The night with Nick Devon went amazing. We ended up partying until 9 o'clock in the morning. Nick is also working on a new EP for our label Us & Them which includes a remix from Natural Flow. Furthermore, our new release from Parallax which also includes a remix from Israeli talented Ran Salman is already in stores. After that, the next EP is coming from an amazing young Italian artist – Erly Tepshi.
And finally, what is your advice to the new and aspiring producers who would like to share their music through your label?
My advice for the producers is to try having their own music style combined with unique sounds and to never give up believing in themselves.
---
Connect with Valano on Facebook and SoundCloud.