TSC Behind The Scene | Watergate
Berlin's Watergate club reopening is happening this Friday, and it's coming to us all virtually! For the first time since Watergate club was forced to shut its doors back in March due to the COVID-19 lockdown, it's now bringing a new type club night, to your screens. The doors are closed – but the windows are open!
Ahead of the reopening of Watergate club we had a chat with Ulrich Wombacher, Co-Founder of Watergate, discussing the reopening of the club, their YWO (Yes We Are Open) platform, and how Uli sees COVID-19 is affecting clubbing and socialising.
Hi Uli! Thanks for being our guest in today's interview. Tell us more about the Watergate reopening? What is the idea behind this concept and are you guys prepping up for the reopening of the club?
Yes, definitely. For the real reopening, we are always ready, the club is ready, the sound system is there, the bar staff is there, everyone is just waiting.
For the virtual online opening we started programming this event 8-10 weeks ago with our team. We developed it from scratch. We had the idea to put something to a stream that is more than just a stream, add some social and cultural value to the stream. Have people interact, have people go from one place to another, like you do in a club. You don't go just for the DJ, you go for meeting friends, meeting girls, having a drink, having a good time, going on the terrace, for enjoying a club night.
When everybody was doing streams, I thought streaming got boring after a while. You only have one perspective, you look at the DJ. Apart from the music, there are no more elements to it. So we thought we should reproduce a club experience. So, we thought about this platform which is a mixture of streaming, of a Zoom meeting, WhatsApp and Tinder.
Is Watergate the only club using this platform?
At the moment, it's just us but of course it's a platform that could be useful for other clubs. You would of course need to adapt it to your very own club.
Can you tell us more about the platform? Who developed it? How does it work?
It was a friend of mine, he was programming something similar to this already and he had the idea to make it as a club platform. We gave him the input like: we should be able to have a chat with people.
I also contacted Beatport and they gave us their track recognition software, so we have it built-in the platform, and whenever a tune is playing you can see what it is (like a Shazam) and you can buy the tune immediately on Beatport.
It's like a parallel universe. It is now possible for anyone in the world to go to Watergate.
We have done Watergate nights in many places around the world. YWO is now an option for people that won't have the opportunity to go clubbing in the next year, to go online and enjoy an event at Watergate with friends and other people. The good thing about online is that it's immediately very international.
The idea was to not only to watch, but also to interact with people, go and have private chats with people, exchange telephone numbers, exchange contacts, flirt, make business contacts, whatever. People can also party like hell!
From the YWO platform you can then go on 1 on 1 chats with people and that's the Tinder component you spoke about?
It's the toilet! I ask you, do you want to go to the toilet with me? And then you go to the toilet with me, and we are in an intimate space where you can do whatever you want. What people do on toilets, you know. I thought this was a fun element, a very real element that happens in a club.
We also have a bouncer, the real Watergate bouncer. He will be walking through different watchgroups, greet people and look if everything is going nice. If you are on the toilet with someone and you are behaving in a bad way, I can click "call the bouncer" and the bouncer is going to give that person a warning. If it doesn't stop, the bouncer will kick the person out from the stream.
One thing we all hate is queuing for the toilet. Is there going to one for the toilet?
The good option with the online toilet is that there are endless ones. We have so many toilets, so no queues.
If this becomes a success do you believe it could have a negative impact on people being less willing to travel to Berlin?
No and I can tell you straight away why. Do you prefer Pornhub to real sex? No. Clubbing is the real thing and nothing can replace the real experience. Humans are very social beings and this is why the whole distancing rule becomes a difficult thing, because everybody wants to be close to each other, to kiss each other, to hug each other, to have a sweaty situation in the club. The whole distancing thing is not a very human behavior, and for this reason people would always want to go to Berlin.
Do you in the future invision that when Watergate reopens you can continue with both virtual clubbing and real life clubbing? 
To be honest, right now we are doing the online clubbing and it requires a lot of effort and it also costs money to do all the streaming. If it pays off it can be an addition and this is something we only can see afterwards. The way we are now doing the filming at Watergate includes many cameras with augmented and virtual reality, and therefore with many different perspectives. All of these perspectives are something I guess we will not offer afterwards. We will probably only have one camera filming the DJ and that is it because we have a no photo policy at Watergate, and if we now open the club to cameras, people will no longer feel intimate. Thus, we might do some of it – but not the whole thing.
To be honest, I believe that the way people go clubbing will change a lot after COVID-19.
Who is going to play at the digital reopening of Watergate club – YWO?
We have Pan-Pot playing. Plus Adana Twins from Hamburg, WhoMadeWho will be playing Live, Anja Schneider will do a b2b with Kristin Velvet, and the "new guy" from Watergate Biesmans will be doing a Live, which is pretty amazing – he is going to put his whole studio in there so there will be a lot to look at, many synthesizers and stuff. We also have Yulia Niko, Minco and Jamiie. So we have both floors running with the more harder stuff upstairs, and then it is WhoMadeWho in the middle and Biesmans in the opening, while Yulia, Minco and Jamiie will grace the Waterfloor.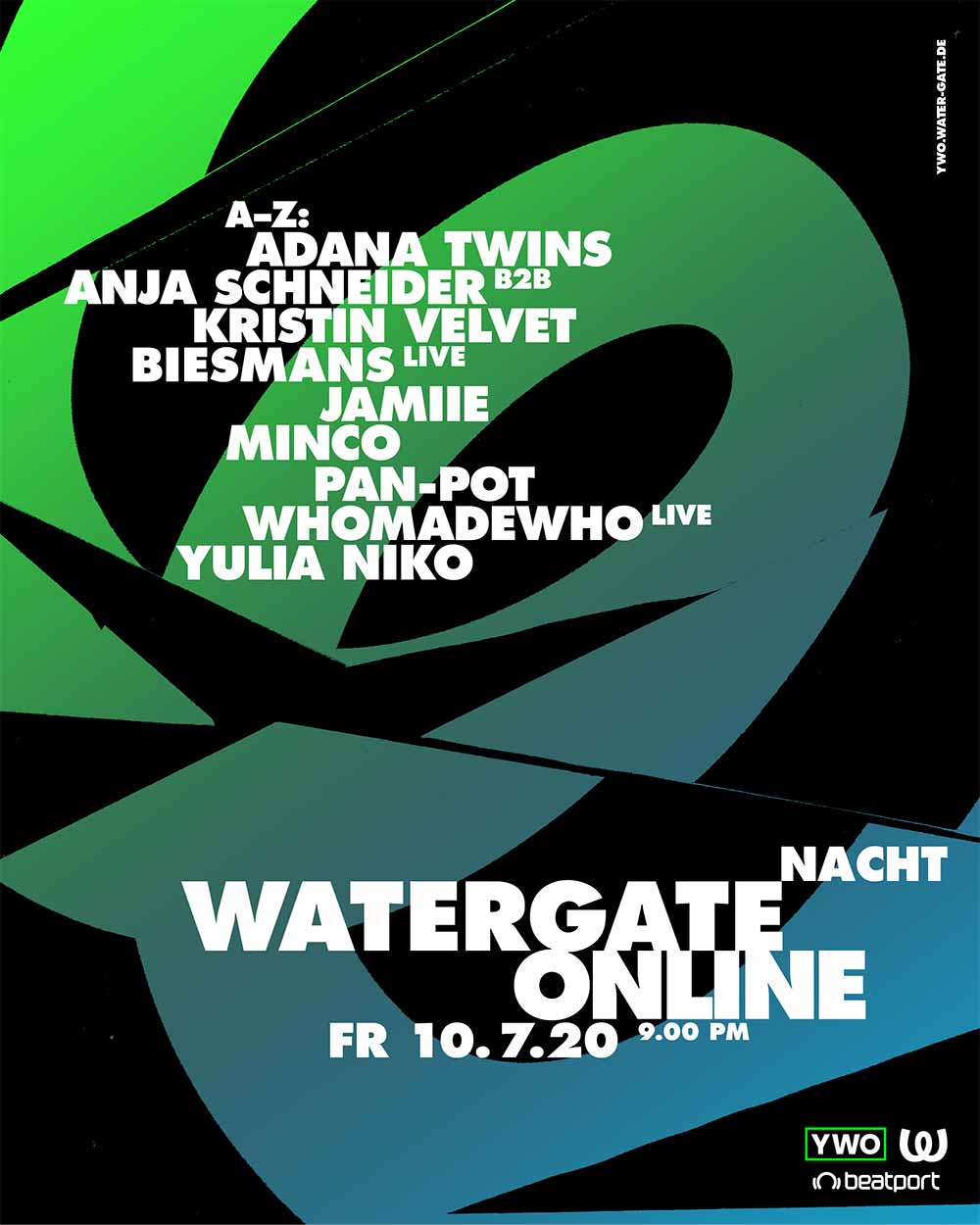 Will the sets be recorded live and will they remain on the internet?
Yes and no. They are all coming to the club so it is pretty much like it would be in real life. I am not recording this and it is not going to be on the internet afterwards. So either you will be there you will not be there. When everything is over there will be no recordings on the internet so you will not be able to review the sets. I think it is the coolest way to do it because this is what clubbing is about.
How did the collaboration with Beatport happen?
You wanna know? Because they are just down the street from us. I just called them. I looked at Beatport streams and I realized they have track recognition, which I thought is super cool. In this way, people can see the tracks that are playing, and buy the tracks afterwards. Working with Beatport is very easy, they are very supportive, they are pushing this, they are understanding the idea and the whole team is very cool.
find out more about Watergate club reopening
Are there any other events you are working on apart from this?
Not really. This is the only thing I have been working for in the last 8 weeks. One day, for the club's reopening, we are also doing to daily work like pushing lineups for an eventual reopening in say October, but this is just in case I can open in October. The date is always subject to change.
Some clubs in Berlin reopened because they have open air space so they are allowed to open during the day. Have you thought about similar events during the day?
The thing is: the media says that the clubs have reopened but the thing is no clubs have reopened in a clubbing way. They have started a beer garden or to sell pizza.
I might just make a bar, but that is just not the real thing. Not for me at least. Nobody is really enjoying themselves like in a club night and nobody is dancing there. For Watergate, we have the open air terrace but it is very difficult with getting permission and also the loudness should be kept at minimum.
Bass on water gets transported with the water so you can hear it miles away. Once we had issues with a Boiler Room set, we got complaints from neighbours.
During the COVID-19 times have you launched a fundraiser?
Yes we have. Shortly after we closed I knew we would not survive because there were no support from the government so we set up a fundraiser and after two months we had 120,000 euros which is quite a lot of money. So we put on the second fundraiser and I believe it is a good things. I really appreciate the support, but at some point we need to stand on our own feet where I don't need to ask for money from the people in order to survive. I have never been in a situation where I received money from the government or clubbers in order to make the club survive.
Did you have to let go of some staff during COVID-19?
No because the government is paying 60 percent of the wages and this will last until the end of the year so we can still keep our staff. This is very important when you are a local, a bar guy, involved in the music business, nobody can offer you a job and people are basically lost without a job.
Do you reckon that clubbing will change forever after the COVID-19?
There is this saying that when you lose something you only discover its real value and this is pretty much the situation when the clubs closed. Clubbing is a natural thing for me and it is something that I have been doing for the last 25 years. After one week of lockdown, I was missing it like hell especially when I noticed that it is not going to come back the way it used to be.
I think that things are going to change in the business, entrance in general and clubbing will maybe become more exclusive and fees are going to go down. Local DJs will become most important because they are available all the time and you don't have to fly in DJs.
When Watergate opens I cannot just fly in DJs and clubbers and tourists cannot fly in the way it was before COVID-19.
I don't think the situation will come back soon especially not in Berlin since Berlin is the center of electronic music. Thus, high-class DJs will go down in fees and local DJs will be most important.
How did your Watergate begin?
My partner and I were doing drum and bass in a club called WMF which was a big club in the early 90s. Then when WMF closed we were thinking that we would need our own location and then came up with the idea to do Watergate.
We found the space and opened Watergate. At that time Watergate was not in the cool part of Berlin but the scene followed and clubs in Mitte was closing more and more and everything moved to where Watergate now is. Somehow we made it to become popular.
It has now been lasting for 18 years – something that my to partner and I never imagined from the start.
If you could describe Watergate with one word what it means to you?
Passion! Passion is the right word. Passion for the music. Passion for running a label. Passion for the DJs. Passion for the industry. I have been into music business for so long and I really enjoy it.
What is your biggest milestone together with Watergate? And what is your happiest moment with Watergate?
Difficult question! The whole thing basically. There have been some amazing parties, the groove party with Richie Hawtin, Sven Väth and everyone playing super long. Also there has been the 'New Kids on Acid'-parties we throw every year with Ricardo, Ata and more. These are all parties that we have built and they have a very long history, success and therefore I am super proud of these.
Also the whole Watergate brand developing from nothing and being a home for 80 people is something that I am really proud of.
You have been in the music industry for a long time. Is there anything that still surprises you in the clubbing and electronic music industry?
It is difficult because I have seen a lot. Sometimes people ask me what the best DJ set was that I have seen for the last three months but there is no such thing for me anymore. But it truly has surprised me that the scene has turned in a way that people can make a living from. This is the biggest surprise for me because when we started this everyone was thinking oh my god what is he doing and then my parents realized that I will be making this for a living – a good living.
Now the DJs are 50 and making a very good living off music, just look at DJs like Solomun or Richie Hawtin.
What do you think that makes Berlin clubbing unique compared to clubbing in Italy and Ibiza in Spain?
Clubbing here and being here as an artist is affordable. You could easily make a living of a few jobs which generates freedom and people get creative. Also, it stayed affordable not like in Ibiza so it is perfect if you are a young student and want to experience the underground scene then Berlin is perfect.
Also, Berlin has a huge variety of clubs, there is a club for everyone's taste! There are so many opportunities and this is what makes it so interesting.
Do you think that things will remain the same in Berlin and not follow the Ibiza-steps?
This has happened to a lot of cities, just look at New York or London. In the 70s and 80s New York was super poor with a lot of crime, but a lot of creativity. Now it is impossible to afford a flat in New York. Even Berlin prices on apartments are high but still affordable, and I hope that this will continue. The municipality and government have also realized how important clubbing is to Berlin, and it would be in everyone's best interest that it remains in this way.
Thank you for the interview Uli and stay safe! See you on the digital dancefloor! 
Thank you for having me guys!
---
Connect with Watergate club on Facebook, and Watergate Records on SoundCloud.
For more information about Watergate club digital reopening YWO click here.