TSC Behind The Decks | Gabriella Vergilov
Next up on TSC Behind The Decks is a very special interview with a fellow Bulgarian based in Copenhagen – DJ, Producer and Singer – Gabriella Vergilov. An interview I have been planning for years, before our paths spontaneously crossed a year ago. After months in the making the interview is now finally ready to see daylight, and peek-into some of Gabriella's rich and colorful history as an artist, as well as her private life. In the interview we discuss her:
• Musical background and upbringing, and how that has influenced her as an artist
• The differences of a life as musician in her homeland Bulgaria vs what she now calls home – Copenhagen
• The most influential musicians in her life and their advice
• Her new co-label 'Gama'
And a lot more…
About Gabriella Vergilov: She is a Bulgarian DJ, Producer and Singer, based in Copenhagen, defined by her on-stage eclectic sets, and signature productions from deep techno to jacking house, infused with vocal messages and inspired by veterans like Jeff Mills, DVS1, Ben Sims, DJ Bone, and Laurent Garnier. Gabriella's music style and energy behind the decks have been mesmerizing audiences at clubs and festivals such as Shelter Amsterdam, Arena Berlin, Dimensions Festival, Ampere Antwerp, KitKat Berlin, Hör Berlin, Extrema Outdoor Festival, local Karrusel Festival, Culture Box and many others. She also has confirmed releases for acclaimed labels such as DVS1's Mistress Recordings and Ben Sim's Symbolism, where just last week she released her "I Am Here Now" EP.
Hi Gabriella Vergilov, thank you for having me for this interview. What a pleasure having you as a guest! Where am I catching you and what have you been up to lately?
Thanks! I'm at home in Copenhagen and just came back from a trip to Stuttgart, where I had my debut at Lehmann Club. It was love at first sight and I have found a new favorite dancefloor, where I Can't wait to return. Meanwhile I also just released my debut EP "I Am Here Now" on Ben Sims' SYMBOLISM on April 22. It's a personal milestone for me considering the solid integrity of the label and its honcho. I am so grateful. We had the release party at Culture Box, with Ben himself and Ena Cosovic as local guest on the day of the release.
You are originally from Tutrakan, Bulgaria a small town in the northeastern part of the country, in a family of art and music aficionados. For how long did you live in Tutrakan before moving away, and how did your family's affinity to music inspire you musically?
I was 9 years old when I moved to Ruse and then 18 years old when I moved to Sofia, to study art and culture. I have lived in 3 cities in my homeland and in 3 international capitals including Copenhagen ever since.
My father's dream was to become a musician. The regime in Bulgaria at the time wasn't very welcoming to artistic people and western art was forbidden. He was a rebel tho' and painted a factory's wall to express himself against the system. He also gathered magazines, books, paintings, cassettes and CD's his own way- his friends smuggled all those while working on ships in European seas, then brought them to him. So he educated himself about what was going on in the world of art outside of restricted Bulgaria.
Before starting his business my father founded the second music recording studio in Bulgaria after the fall of Communism. So I am very used to "exist" amongst big and loud sound systems since a very young age.
I remember him blasting music in the middle of the night in the living room, while I was falling asleep on the sofa. Funny how situations from our childhood translate in later years. I often check promos when I am on the plane and I often just fall asleep. I think it is related to those moments back on that sofa. I do exactly the same if I sit at home and just have loud music on. It has a soothing effect on me as crazy as it might sound. Some sort of a comfort.
Fun fact I didn't know until recently is that before giving birth to me, my mother was at the local disco club- dancing right before her contractions started!
I guess this is pretty much a good explanation of why at the age of 3 I have told my parents, that I am going to be a singer and a dancer.
It was just all meant to be.
I can imagine the contrast between growing up in Tutrakan in the end of the Bulgarian Socialism era vs now living in Copenhagen. What made you move abroad, and are you happy with your decision for settling back in Copenhagen after a sting in Brussels?
I grew up after that era, not during it, but I have felt the aftermath, since those political changes take ages before offering an actual change to society. There weren't any electronic music clubs. Local dj's were playing what was on the radio- popular music. You had to go to Sofia if you wanted a different sound, something more edgy and avantgarde. I have watched the Sofia street parade on national TV. That was it. I was fascinated with the rave colors, glitter, the energy and free style of people.
Bjork had a big influence on my way of caring that time. Madonna too, but that's for another time. My favorite song of hers is "Venus As A Boy". Maybe because I am also from Venus.
The obsessive passion for dancing (10 years) and 4 years of piano helped integrating me musically, so I have found my sacred haven within the underground scene when I moved to Sofia. House and Techno rhythms felt like an extension to my general music passion, which was definitely Dance Music.
As exciting as it was to be part of Sofia's artsy circles I still wanted to escape. It was a private thing. And I had to do this for myself and my mental health. Copenhagen was suggested by a close friend. "You are going to fit in here just perfectly, there is so much talent and creativity, it is a lovely place". So was I sold.
And so she was right, it is indeed a lovely place. One of my absolute favorite on earth without a doubt. The other one is Sofia.
Photo by Eliza Georgieva
How do you see the music scene in Bulgaria over the last 10 years? If you look at the Bulgarian and Danish music scenes, how would you compare them – pros and cons? And lastly, do you see yourself ever returning to Bulgaria and being a musician there?
Here is the main difference- we are talking about two countries, completely opposite from one another in terms of national psychology and mentality. That's already enough.
The way we are raised by society determines how we are going to navigate in absolutely every field of life. Rave culture and music industry included.
Bulgaria has a lot of potential, and some people are finally starting to change the narrative. There is no collectivity tho', no unity between artists and promoters. And if most of the ones hating so viciously on their colleagues used this energy to actually make music instead, now we could've had masterpieces in terms of releases made in Bulgaria. And that would result in the sound of Bulgaria. But…
There are many parties going on there right now, but there isn't an actual scene. Everyone can be a DJ nowadays, but how many can do proper production, that stands out and then gets played all over the world.
Add curating decent conceptual nights to it, educating an audience by taking risks, and handling the today's high marketing bar.
All basic industry tool, which unfortunately develop way slower in Bulgaria. In addition to that the cultural sector isn't giving away any subsidies.
Build a community and you automatically start to inspire local artists. Next thing is you get that sound out. Release it, get support. Then internationally important touring DJs will eventually play and share it with the rest of the world. Then they come to play, eventually being followed by few dedicated fans and the word is out. International people are going to talk about a local scene, recognise it and distribute the idea of it if they feel good, if they feel home, even if its not their home, and dance in the middle of a fully packed dance-floor. Nobody likes empty spaces in dance clubs. You have way too many empty spaces in Bulgaria.
I am still trying to wrap around my head, why people are so judgemental over there. It's a bit of a self-sabotage thing if you ask me.
So have that all and now we are not only talking a growing scene, but tourism economy opening working possibilities for locals.
Curiosity grows big when you have 5 fresh new producers from a small country that's never ever had a techno history before, releasing music proactively, independent or via reputable labels. Great example is Tbilisi, Georgia. For less than five years they blew up with sound (producers), a proper club and diversified scene. Now we all have at least one track from Georgian artists in our sets and there isn't a single DJ, who is going to decline a gig at Bassiani, let's all face that and use it as a great example.
The missing vital- non judgemental community is something that has personally been bothering me for sometime now. I feel that I have the duty to keep on talking about that at least. And keep on returning to Bulgaria with more rock solid releases on global Techno and House labels so I can help my Bulgarian scene.
On the other hand I love to come back, see my friends, lay my name there, feel that energy, also give a little something to people.
Regarding Copenhagen and its scene: wow, it has been a massive change for the past 5-6 years. It is indeed a fun and lovely place to perform, make friends within the industry.
I get immense support from people here. The audience is open minded and wild. They just love to have a good time, I know a place where people don't even care about line-ups and artists, they just want to be taken on a musical journey and that is quite charming.
Parties are often sold out, ravers are queueing for hours, there is a real community, artists aren't jealous of each other and I'm finally not missing so much going raving in Berlin, because line-ups here keep on getting better and better. I go and check out my colleagues when I'm feeling it, they do the same, too. I just feel like I can breathe and be myself. Finally.
On the other hand- I love Bulgaria and Denmark equally. They both have given me much and are part of my journey. They are just different and as a typical libra I need something from both sides in my life. I belong to both scenes equally. And there is absolutely no chance to argue about that.
Do you remember the first record/CD/tape you bought with your own money? Fast forward to present times – what was the last record you bought? And do you prefer buying physical or digital records?
I got it at Hardwax, a record by Levon Vincent. The first three years of DJing I played vinyl only so I build-up a collection.
I get easily irritated if the club's turntables are not taken care of. I demand a nearly 90% great vinyl performance and that depends on the condition of the gear, as well. I stopped playing vinyl 3 years ago, but I am ready to do that again soon.
Nowadays I play the practical digital, but I love the feeling of spending 3 hours in a record shop, digging, talking with the owner and listening to new music in a completely smoked up of cigarettes space (which I btw don't like big time since I'm a non smoker), but I only like in this scenario, haha!
Last record I bought was an album by Altin Gun, right before their concert in Denmark. I'm talking Turkish psychedelic Rock based on old traditional Folk songs. I'm a massive fan! It doesn't always have to be Techno. I'm a big softie sometimes.
Your sound has been described as dense, psychedelic, Detroit to Chicago style house. The style – fluid and translucent, with layers of syrup-laced vocals and wavy bass. How did you develop your sound over the years, and do you see it as a final (unique) product or as an always evolving over time?
Nothing is final in art. You have to keep on developing unless you are ready to call it quits and die an artistic death. I am like a chameleon- experimenting with diversity in styles and vibes. I do the same with my clothes, when I cook. Predictability and practicality in music bores me. The conventional isn't for me when we talk about production approach.
Vocals are definitely my trade mark, which I know makes my productions a bit more out of the standard box, yet they serve as an ever occurring element that makes the ones who already know my work recognise it easily next time.
I have also heard quite a few times already that I got a "quirky sound". Last person to describe it this way was Ben Sims.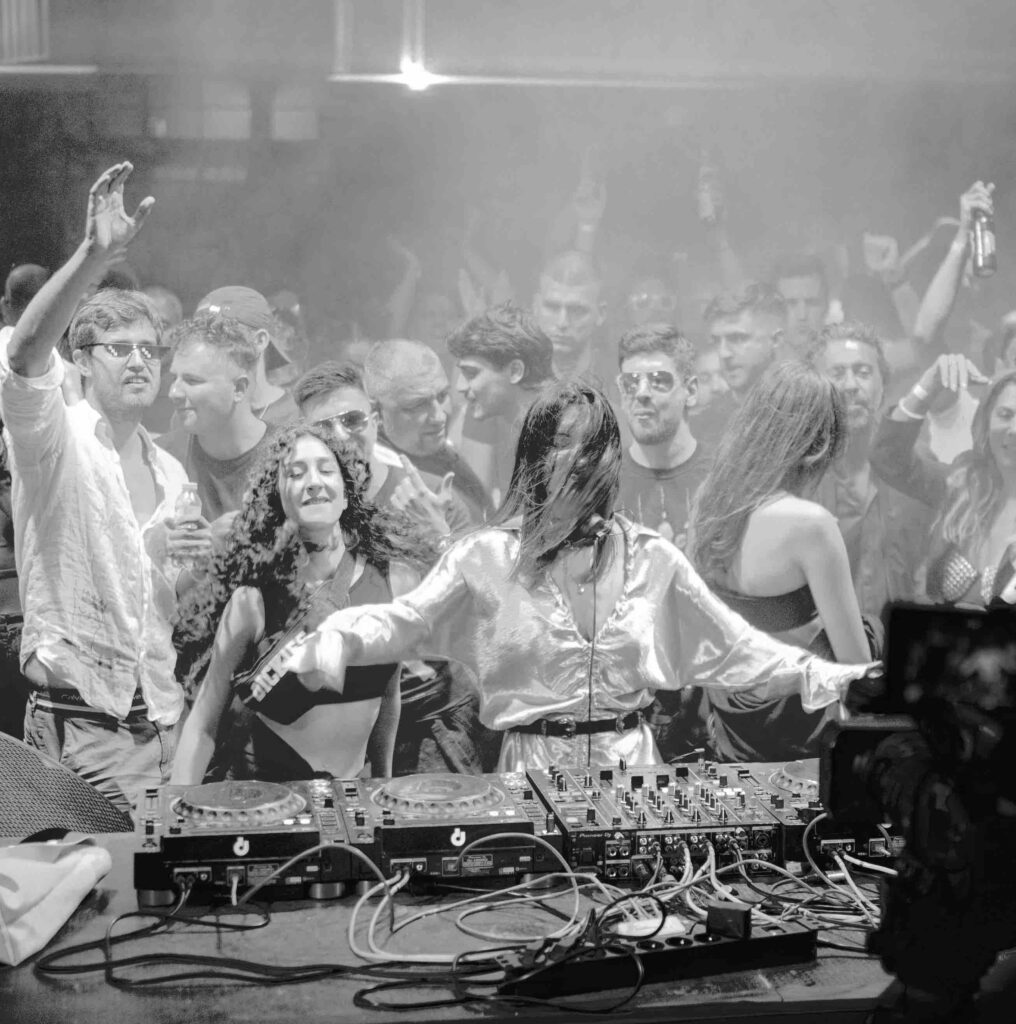 Photo by Glen Nikolov at Boiler Room x ФАЗА Sofia
You have released just released for Ben Sims' Symbolism, you have an upcoming release on DVS1's Mistress Recordings and you have featured as guest-vocals on The Bunker NY and Coyu's Suara amongst others. Since last year, you are also the co-owner of "GAMA" record label, alongside local musician Braver. How did you come up with the name of your new record label and what does it represent? What made you start a label with Braver, and what music can we expect to hear on the label?
Mads is an old friend and we click when it comes to tracks, vibes and etc. He approached me many years ago with this idea, but I wasn't ready. I value his skills and integrity as a producer, he's a killer DJ and is well known here as he organised events already 20 years ago.
As a DJ and producer I personally need my own foundation and family, and this is what my desire for GAMA is. I have grown an anti-fan of having labels "evaluating" my muse, ideas, choice of synths and whatnot. I now work with only few labels, because I know they won't tell me to change something against my will as a creator of my own sound.
With GAMA on the other hand I will be dropping all kinds of vibes, textures, brave and even ridiculous ideas and completely not considering any style defining public expectations.
Is 'GAMA' going to be solely a record label or can we expect it develop over time with event series and more? Where would you like to see the label in 5 years time?
We are going to release primarily our own music for now. This music I personally do is abstract, alternative, obscure and absolutely personal. There is no right or wrong. There is no textbook theory to instruct us how to make house or techno music either, and I will try to keep it this way release-wise.
We were to host the very first GAMA night at Culture Box in December 2021, but lockdown happened so we moved it for summer/autumn 2022. Date is TBA…
Today with music technology and Social Media it's both a blessing and a course to get your music heard – there is so much competition, yet it's so easy for your music to travel and reach people everywhere. Having released music on some respectable labels, what are your tips for upcoming artists on getting their music heard?
Stay true to what moves you in music and art, use it as an inspiration, but don't rely on it blindly. Push the boundaries sometimes: comfort zone kills any signal of creativity. Know your X-Factor, and be honest with yourself if you know you might not have any. It really saves you time and pushes you in YOUR direction. You are after your own direction and nobody else's.
You often do both production and vocals on your tracks, and for the video singles you are director as well as an editor. How and why did you get involved in so many parts of music and video production? What video are you most proud of directing and editing?
The MTV era was massive. I mean, MTV did SO much for the music industry around the globe. I was glued to the TV when I discovered it. Madonna's video clips, Massive Attack, Kylie Minogue, Bjork, Aphex- basically most of Chris Cunningham's iconic work touched me.
Madonna's Frozen was a visual eye opener for me, for example. The sound of it, everything.
Soundgarden's Black Hole Sun directed by Howard Greenhalgh was a massive visual shok.
Bittersweet Symphony by "The Verve" and quite a lot of Michel Gondry's works have left an imprint in me as a visual lover, as well. I've always been fascinated by the visual anyway. That's why I also love cinema.
I'm also quite the fan of The first Blade Runner, but then who isn't!
So the video aspect to my music is just like another logical extension to my sonic inner world. I have no ambitions to become a director if you ask me, this. At least not now, haha.
Editing my own videos takes lots of energy and time. I mostly do it DIY, because I want all or nothing. I can't afford to pay a highly skilled director's team, so I do it myself. This way If I get disappointed I know it's all on me.
"Boring Shit" is a video everyone laughs with. I think it's a good signal. It is very quirky.
I personally like "So Cool So High" which is directed by Dedkoue, edited by myself and "In A Circle", which I shot randomly in Copenhagen while people were swimming in the canals during a hot corona summer.
We often ask our guests what are their warm up, peak and closing tracks. What do you believe each of these tracks has to do and transcend, and which tracks define for you – warm up, peak and closing, for you?
Usually some deeply existential acapellas to open my sets with would do. Or! I open Ableton and draw a quick sketch myself literally an hour before I leave for the club.
Last time I did that I was playing for Copenhagen's crew CPH DEEP at Volume, one of the city's best venues for big raves.
I wanted something crazy for intro. It was only an acapella where I have said many things for about one and a half minute and then ended up with "Why are you not fucking dancing, you need to start dancing, now, like now, start dancing, NOW". I have really enjoyed the reactions of people- completely confused "ok, what is this now, do we like it, or is it too weird, she is too weird, but hell yes, bring it on, girl, we actually love it".
I lean to late 90's or mid 2000s bangers when we talk about peak time choices, because that era is dear to my heart. I shall indeed add some acid to it, because I'm an acid girl.
Closings are for classics with me. I finished my Lehmann debut with Massive Attack feat. Mos Def "I against I", part of "Blade 2"s OST. I pitched the track from 144 down to 127, it was so sleazy and dope. This is 2003's hip-hop we're talking, you know? People melted.
You recorded our latest guest mix, which we are premiering next week! How would you describe it in 1 word? What emotions did you want to invoke to the listeners with this guest mix?
Very Gabriella. I bring energy. High energy.
After a year on hold in 2020, in 2021 you played some unforgettable gigs including the first ever Boiler Room in Bulgaria. Tell us more about being part of the event, and what was it like playing for the second time a Boiler Room event (after Ampere Open Air), this time on home soil? What was your favorite moment from that night?
The most important and favorite gig up to date. I've been a fan of the platform ever since. I have dedicated a song to it- 'I Want 2 Go 2 Boiler Room', which was the final track of my debut in Antwerp. I have to release it finally.
So the thing in Sofia was wild, hectic, unpredictable and completely memorable. My set started with a technical issue, where the CDjs suddenly just refused working right during my intro of C'hantal's iconic "The Realm" acapella.
You open a set for The world's leading livestream TV; you have 1000 people- front, left, right and behind you; everyone is trying to touch you, grab you, to be in the camera- basically to be the DJ, let's be real; and thousands of people around the globe also watching every step you make and then the gear you rely on gives up at the start!
Add to that it was a historical moment for Bulgarian rave scene due to being the very first Boiler Room on local soil.
I was nervous, furious and ecstatic at the same time. The sound team fixed the bug super fast. 3-4 minutes of awkward silence followed, where people felt something was off. I can't hide it when I am not happy if there is a disruption of my work. But support came when everyone started suddenly scanding cheerfully.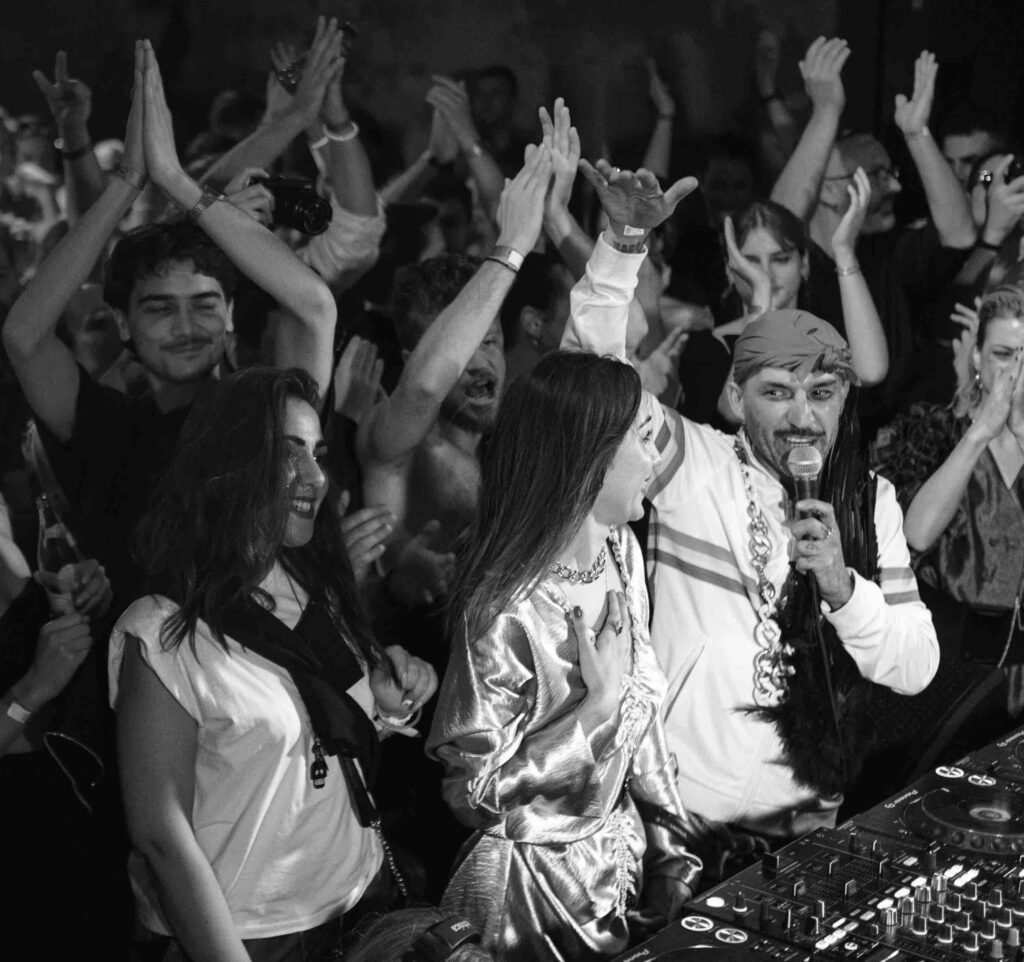 Photo by Glen Nikolov at Boiler Room x ФАЗА Sofia
It was an amazing moment where my people comforted me. Bulgaria showed massive love. A favorite moment was when I dropped my own unreleased acid rave version of one of Bulgaria's most beautiful and popular traditional folk songs "Katerino Mome".
I still get questions when am I releasing it: soon!
I wanted to say "hello" to my people in our mother tongue, so I took the mic and greeted them for "Good Evening". Everyone screamed, energy was already high, but it went off the roof in that one moment. I wanted those people to feel proud of our roots, of themselves, of the fact we did something important and long lasting together.
My best friend cried, then she told me a random guy also cried with her, I think there wasn't a single person in that old elevator factory that didn't get the goosebumps when I dropped 'Katerino Mome' and said "Dobur Vecher Bulgaria" (Good Evening Bulgaria').
I would repeat it all over again and again and again!
Lately you have strengthened your tie with local club Culture Box. You were part of their Culture Box Stream Sessions, your label "GAMA" will have it's label launch party in Culture Box, this summer, you played their "Dance to Donate" event, and on the 22nd of April there is a record release event for your "I am here now" on Ben Sim's "Symbolism" label – a lot of things going on! What is your first memory of Culture Box and what has solidified lately this relationship even more?
Many people, mostly younger, have no idea, but I cut my teeth at Culture Box, starting 12 years ago.
First as a raver and a vicious supporter of everything the club did. I knew everyone from back in the day and we were like a family that gathered over the weekend.
Many people have left, some stayed in the business and became professionals. I have made nearly 60 percent of my contacts by being immensely present, some thought I lived in there.
Second- I've practised DJ-ing by playing at the White Box, where Tim booked me (the old non existing anymore bar of the club) and right before I left for Berlin I managed to get my skills ready to play the main rooms, where Steen Kong booked me twice.
I left Copenhagen right when I was signed with Thema Records for my first release. It was Berlin for a year, then Brussels for nearly 5 years and now I am back again in Copenhagen. But this time with a catalogue of 34 tracks, few favorite remixes and few amazing shows around the globe. Culture Box acknowledges all that and we are in great energy together. They know where to place me, yet know how I would feel best as a DJ in terms of line-ups. I am grateful that the most signature place for electronic music in Denmark supports me!
To say the least- I might have proven my work ethic and dedication throughout the years.
And now more than ever I feel this is a homebase. I started here, it was only logical to continue.
Speaking of the release event for your EP "I Am Here Now" on Ben Sim's "Symbolism" label, how was the party at Culture Box? Ben is one of my favorite DJs, Ena is my fav Danish DJ- it was a blast and the club was FULL HALF AN HOUR after opening!
And are there any other upcoming releases you can share with us?
My first GAMA release, few remixes, a VA project, a solo EP for DVS1's Mistress label, my debut at Distortion, playing with Tim Andresen and DUBFIRE for Distortion's First Culture Box Club Night, finally going back to Bulgaria for a gig and few more surprises!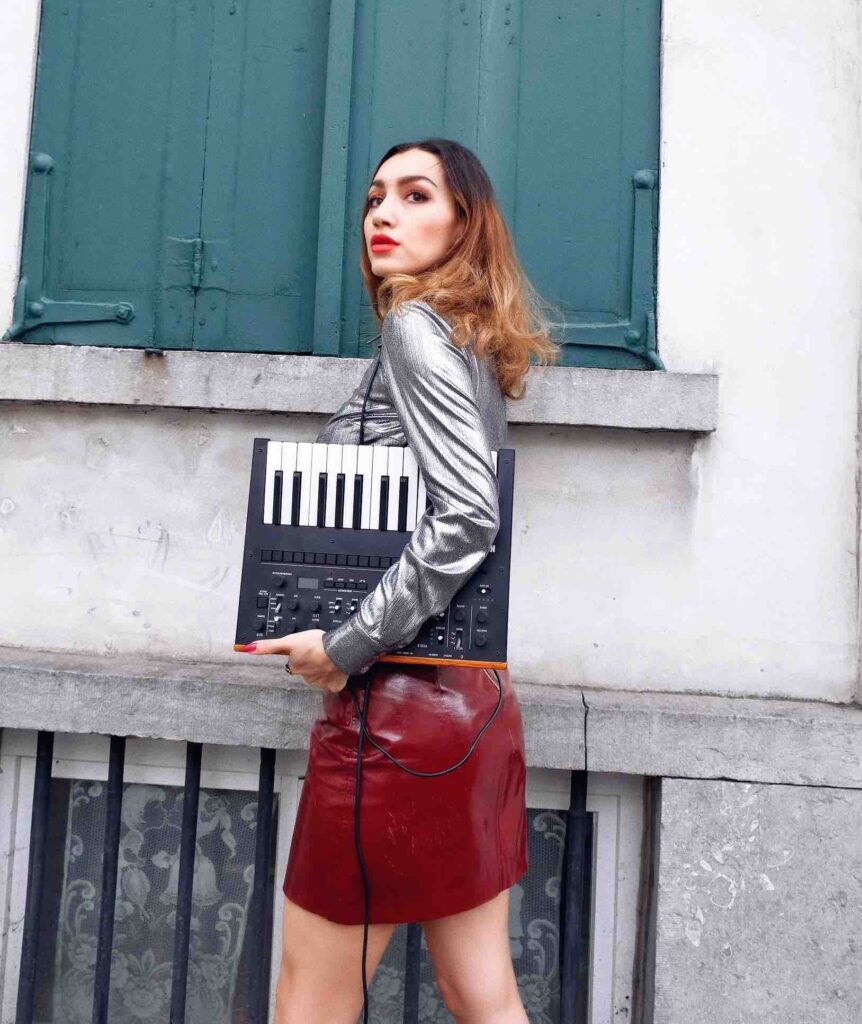 What are your goals for 2022 as an artist, label co-owner and an individual?
I gave up on ambition. It is a negative trait I feel. I just do what I am good at and let it sink in with people.
Thank you for the interview Gabriella Vergilov. See you behind the decks!
Thank you for having me and see you very soon!
---
Connect with Gabriella Vergilov on SoundCloud and Instagram.
Follow Gama on SoundCloud for upcoming releases.