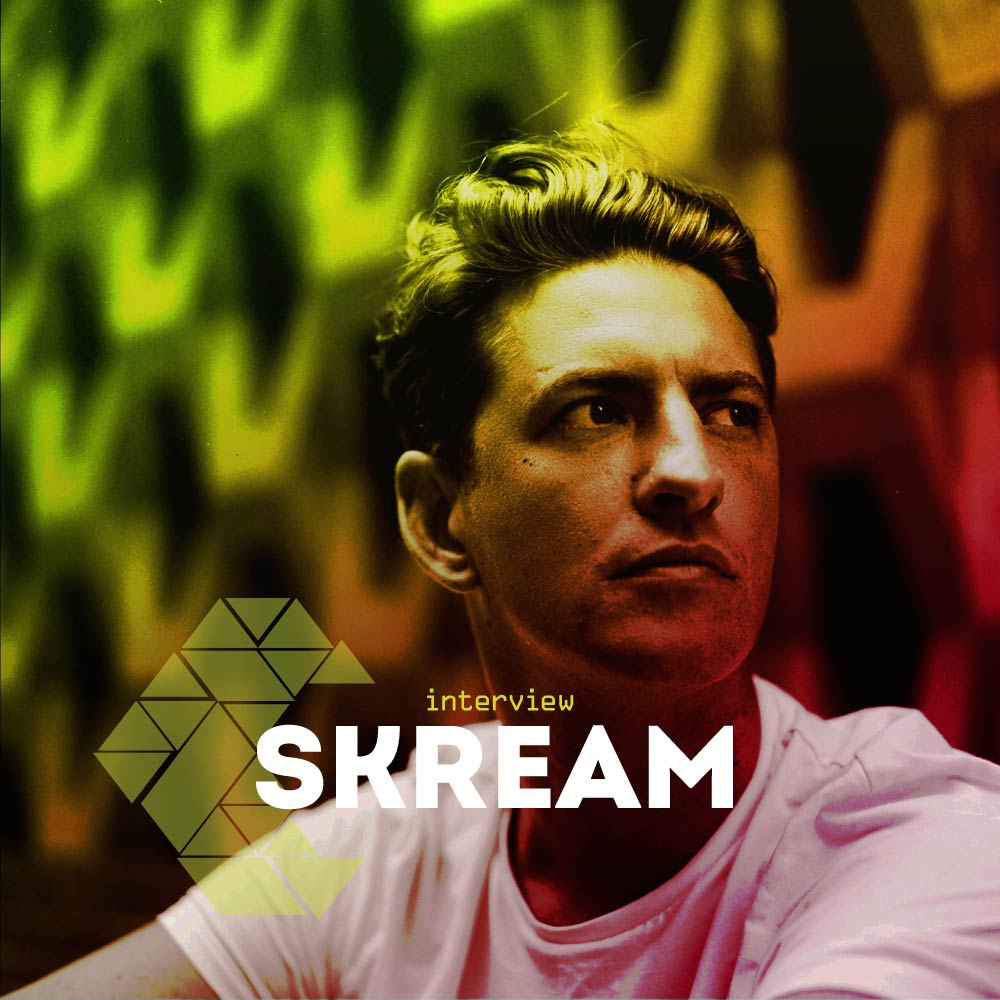 TSC Behind The Decks | Skream
Oliver Dene Jones, known in the music world as Skream, is one of the UK's most beloved selectors. DJing since he was 11, making music at 15, one of the key innovators at the birth of Dubstep, and all of that before he'd left his teens. His productions and DJ sets are possessed of a uniquely rave-inspired energy, making his natural habitat a packed, kinetically charged dancefloor. Shortly after transitioning from Dubstep to House & Techno, Skream unveiled his new label 'Of Unsound Mind'. The label's ethos is simple, "To offer an outlet to Skream's friends and to give support to the underdogs out there". 
Fast forward to 2020 and Skream is back on Hot Creations together with Tom Demac, recently releasing their tune 'EMF', which also received a rework from Jamie Jones. Read more about the release and listen to it here.
We caught up with the man himself, to discuss his latest release on Hot Creations, his transition from Dubstep to House & Techno, Remixes and what the future looks like for him, amidst the Covid-19 pandemic.
Hi Skream! Thanks for being our guest in today's interview. Where are we catching you and what have you been up to?
I'm currently at home in South London and like most of the world I've been in lockdown!
How did you come up with your artist name and what does it mean?
I used to graffiti the tag 'Skream' when I was a kid, and that's just what everyone knew me as.
After transitioning from Dubstep to House music, you have released a broad spectrum of music, from disco to house and techno. What is the driving force for you to never keep it safe, and to explore so many different electronic sub-genres?
To be honest I've never kept it safe. Even when I was making dubstep I'd use out of the box drum patterns and styles to everyone else.
I love all different styles of music, and I just love making music that people don't expect to hear from me.
When you made the transition from Dubstep to House music, you said House music has always been close to your heart. What does House music mean to you in one word?
Vibes!
You are a veteran in the industry, what still surprises you (if anything)?
That people still want to hear my music and see me play.
Afterparties, afterparties, afterparties – what is the weirdest thing you have experienced at an afterparty?
Weirdest thing I've seen at an after party?
There's a golden rule and that's what happens at the after party stays at the after party. Sorry.
You just released your new track 'EMF' with Tom Demac. A tune with breakbeat rhythms, pounding bass kick and dramatic synths. How did the collaboration with Tom Demac come along, and why did you decide to release it on Hot Creations? Lastly, what emotions do you want to bring out in people when they are listening to the track?
Tom and I have been friends for quite a while and had talked about a collaboration more or less since the moment we met. Jamie was really into the track and I have the utmost respect for the fact he wanted to release a different style on Hot Creations. As for what emotions did we want to bring out in people, I'd say it's just a fun track we wanted people to party hard to.
Preview below Skream & Tom Demac – EMF and Jamie Jones' Rework 

buy Skream & Tom Demac - EMF
Skream + remixes goes hand in hand. Which one of your own remixes do you like the most and why?
Hmmm tough question. I guess it would have to be my remix for Laroux – 'In For The kill', as it's one that's stood the test of time and still manages to make new fans even now.
What is the feeling for you, not being able to perform live in front of people during the global pandemic lockdown? Moreover, do you reckon that clubbing as we know it is a thing of the past, after the Covid-19 pandemic?
It's been really horrible not being able to go out and play, see friends, meet fans etc. I'm a very social person so that's definitely been tough. I really hope things get back to normal, but honestly I really don't know. It does seem possible if everyone sticks to the rules!
What are you working on next? When can the fans expect to see Skream live again, after the Covid-19 lockdown ends?
I have a few streams coming up, but fingers crossed I'll be touring again by October! I'm also currently working on a new album.
As we are wrapping up, one last question: What is the biggest milestone of your life thus far, and what is the next milestone you wish to reach?
Every year is my biggest milestone. I think the next milestone I wish to reach will be 20 years in the game, I'm only a few years off!
Thank you for the interview Skream! Stay safe and positive!
Thank you!
---
Connect with Skream on Facebook and SoundCloud.