Watergate club reopening with virtual clubbing
Berlin's Watergate club reopening is happening this week, and it's coming to us virtually! Celebrate and dance together despite clubs being closed? The wait is over, as on the 10th July, this will again be possible at Watergate. For the first time since the club was forced to shut its doors back in March due to the COVID-19 lockdown, Watergate club bringing a new type club night, this time to your screens. The doors are closed – but the windows are open!
YWO (Yes, We're Open) is a new online platform which is being introduced with this first virtual event. It transports a night out at Watergate into the clubbers' homes. YWO operates as more of an interactive space that brings the club experience to life in a virtual way. Watergate will be opening it's 2 floors plus its terrace, with an internationally renowned line-up of DJs, live acts and Watergate residents, who will be coming to play for free, including:
Pan-Pot
Adana Twins
WhoMadeWho (LIVE)
Anja Schneider B2B Kristin Velvet
Biesmans (LIVE) Yulia Niko
JAMIIE
MINCO
All artists be streamed directly in association with Beatport, however the sets will not be recorded and stored online, so remember to tune-in to be part of the experience, or miss out on it. 
Guests and artists from all over the world gathered at Watergate to experience new music, dance with friends and enjoy a cocktail. With YWO that will now all be possible again – digitally. You can party alone, and meet new people, or invite your friends and have your own private party of up to five. A private rendezvous in the toilets, enables voice and video chat with friends and strangers.
Optional- with the added security of a 'Call The Bouncer' button. This allows clubbers to report any inappropriate behavior, racism and discrimination, with the power to boot them well and truly out!
Watergate club reopening line-up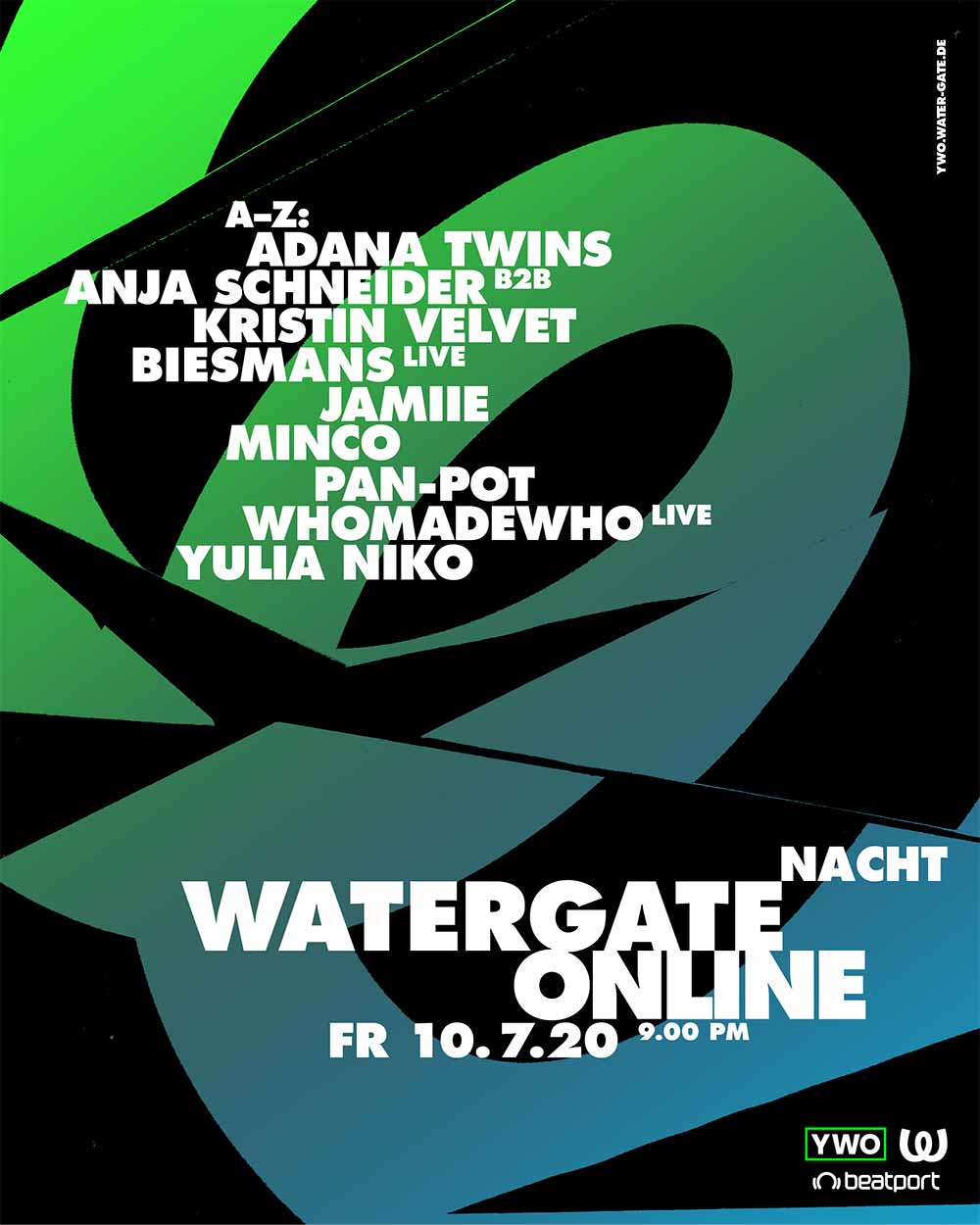 The entrance fee is up to the visitor. A minimum entrance fee will be set at €1, which covers the cost of the servers to run the event. Any greater donations will go back to the future running of the club and helping our performing artists. We hope this will be the first of many virtual events with Watergate, creating a new path for the way in which we go clubbing safely, at least for now.
Watergate Nacht Online
10.07.2020
---
For more information about Watergate YWO club reopening click here.