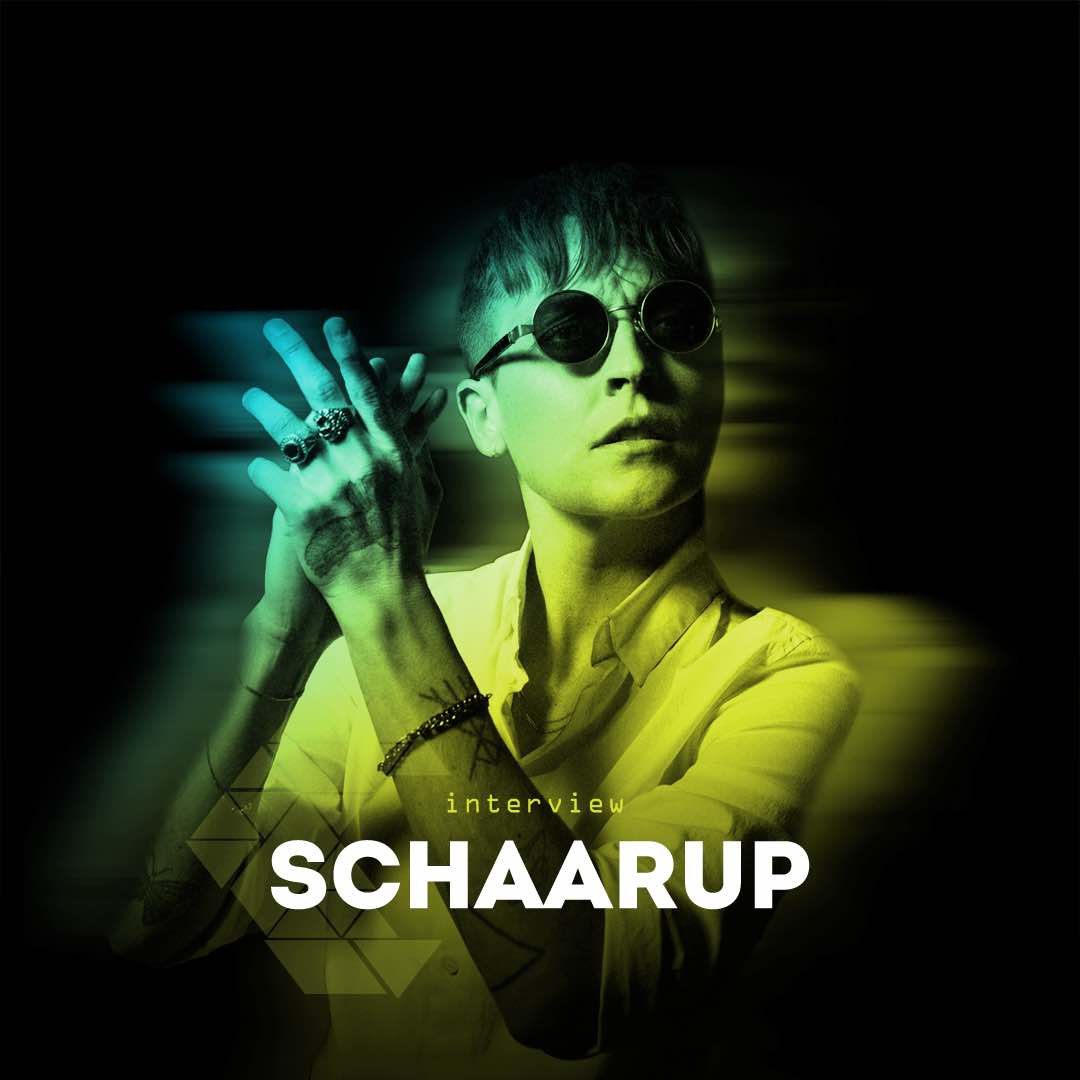 TSC Behind The Decks | Schaarup
Mai Schaarup, also known in the electronic music community as SCHAARUP, is an energetic and talented DJ and Producer, based in Copenhagen, Denmark. Her sound and heart are set on genres such as; House, Techno and Melodic Electronica, and she draws inspiration from the underground clubs of Berlin.
SCHAARUP's sets are stories told by her melodic and dark sound melted together with magical vocals and mesmerizing rhythms. Her big passion is DJing and to bring people into her Universe by touching their hearts and move their feet.
I have been following Mai Schaarup for a few years, and have seen how she has established herself in the Copenhagen electronic music scene and community. A respected name in the game, but with the same smile and energy – always! An interview with SCHAARUP was long-due, and we finally agreed to do it on a rainy summer afternoon in her flat in Nørrebro, Copenhagen.
Hi Mai Schaarup, thank you for hosting me for this interview at your place. To kick things off, tell me what have you been up to lately?
Thanks for being my guest and having me on The Sound Clique!
Well I have been pretty busy restarting my career after the Covid-19 pandemic. I have been having a lot of gigs, and I must share that I am extremely overwhelmed by all the messages and bookings I have been getting – people have not forgotten me, and that means the world to me! So I definitely can't complain, things are going pretty well right now.
I have followed your music career in the local electronic music scene over the last 3,4 years. You have been extremely persistent, and have overtime developed quite the following and respect for your DJ sets, and the energy you bring to a party. Can you name one thing that you account this success to? And would you do anything differently in these last few years (any regrets)?
I think music is a tough business, it's sometimes too much for your mental health, but you are also being driven by it. So for me it's means a lot to have the passion for music, not to give up on it and that I continue to develop and improve.
And to add to this,
when I started in music I told myself, that I will always be me – an honest, loving and including person.
That is very important for me, and something I try not to forget!
Tell me more about yourself – how did you get into music? Which artists are your biggest inspiration and what music genres is your sound inspired by?
Before I moved to Copenhagen I was actually playing football. So when I was done with that I moved to the capital, where I found a lot of parties, music and colors – it was all very different to me back then. At that time my sister's husband was a popular DJ in Copenhagen. He was also a proper raver, so when we started going out I quickly got introduced to all the sides of clubbing. Everything was going very fast! I fell in love with Djing and quickly bought my own DJ booth, and started learning from DJs I had met at clubs and events.
Favorite artist – Paul Kalkbrenner. It was the first electronic music I listened to, and when I first heard his music, for me it was the most beautiful music I had ever listened to! My reaction was literally – OMG, WHAT IS THIS?! I love all of PK's music, and listen to him to this day.
Music genres – my sound includes and is inspired by Melodic House and Techno, Indie-Dance, a little bit Deep as well. Aside from that I do listen to a lot of Pop, and think there are a lot of very talented Danish Pop artists.
What are the 3 essentials you bring with you when you are DJing?
E-cigarette

Wing-man or a wing-woman – might sound weird, but it actually makes me feel more comfortable when Djing.

My phone so everybody can see where I am, and come and join me!
Everyone has a 'guilty pleasure' song. What is yours?
"R. Kelly – I believe I can fly"
Can you share one funny/weird habit of yours that not a lot of people know about?
Here's three:
I take a shower before I train or run

I am lousy at cooking and almost never shop

I have never played any musical instruments, and there was no music in my family when I was growing up
On a more personal note, you are an extremely active person and passionate about running. How did you get into running, and does it play a role in your DJ career?
Actually the two connect quite a lot for me! While I am out running I listen to a lot of mixtapes and guest mixes, and I can study and explore how they were mixed. As a result of that I believe that my sets have become better after I started doing that.
Running also helps with my work-life balance, and being better at my work.
You are an avid supporter and member of the local LGBTQ+ community, having played the official Pride events in Copenhagen, and regularly being supportive and outspoken on the topic. Do you think the LGBTQ+ is a strong part of the local electronic music community, and are there things you'd like to see improve (safer environment, more tolerance etc)?
The last few years we did a lot of work on awareness, diversity, being inclusive.
I had a big responsibility by starting Housefrau.
Do you want to do a shot-out to some of the local crews and organizations, that are contributing a lot?
Sweetie

FFM (Future Female Sounds)

Back To Future Sounds

Housefrau

Culture Box

CPH DEEP

Ved Siden Af

Equalclub

BGM8S
Your latest remix is Lucy Love- Signals (SCHAARUP Remix). Tell us more about that remix – how did it come about? What inspired to remix Lucy Love – Signals, and what software and tools did you use to remix it?
I actually previously have remixed a track of Lucy Love. So when she was about to release her latest album, Lucy Love wrote me if I wanted to remix one of the songs. I listened to the album and chose the one with the most singing, as I like to work with vocals.
The gear I used to remix Lucy Love – Signals was a Sub-32 and Zerum for the lead. As I already mentioned, I like to work with vocals, that's why the track is so pitched. Overall it turned out asa nice Melodic track and we are all super happy with the result!
Can we expect more remixes or solo releases from you in 2021/22?
Yes, in the future…but I can't commit to when!
We are super stoked to share with our followers the mix you made exclusively for us at The Sound Clique. How can you describe the mix, and what story did you want to tell with it?
It will be inspired by my latest morning set. At the moment I am very inspired by morning sets, and how sets develop from warm-up to peak-time. So expect something in that direction. The guest mix has Melodic and Indie vibes and I would suggest you use it as a sunset mix!
Listen to TSC Cast #049 – SCHAARUP 

Speaking of music what are your current warm-up, peak-time, and closing records? And what is your favourite place/club to play at?
Warmup: "Cobalt – Joseph Ashworth"

Peaking: "Legend star – Malandra Jr"

Closing: "Manifesto ( Ivory Re idealize) – Martin HERRS, Clement"
We had a lot of fun during last year's Housefrau rooftop party at SOHO, and we are looking forward doing it again with you! Where can we see HOUSEFRAU next?
During the summer we had already a lot of gigs, including Fluid festival, Øresound Festival, Tivoli and Copenhagen Pride 2021. Our next events will be Søpavilionen – 24th of September, Culture Box – 8th of October and Ved Siden Af – 30th of October. 
Speaking of HOUSEFRAU, the music collective you co-founded, for the ones that are not familiar with it, can you explain what HOUSEFRAU is, who is part of if and what is your goal with it?
HOUSEFRAU is both a party concept and a DJ collective. It consists of me, Fedty and Sus Wilkins. Together we work for more diversity in the electronic music scene, by booking minorities for our parties.
My goal from the beginning was to make an inclusive party, where the focus is on the crowd, the good vibes, and the good music.
How did you come up with the name "HOUSEFRAU", and what does HOUSEFRAU mean to you in one word?
I started thinking about HOUSEFRAU by myself, but I wanted to do something with someone so I was not always alone when working, and I wanted to do something that at the time could put more focus on the diversity in the electronic music scene in Copenhagen. I already knew Sus Wilkins from the music and LGBTQ+ community. One day she came to me to ask me to teach her how to do DJ and use a DJ booth. We started talking and after awhile I told her about my ideas and she told me about hers – she wanted to start a party concept as well. We developed the ideas together and I came up with the name HOUSEFRAU, which has a slightly feminist statement – but with HOUSE as in House Music.
HOUSEFRAU to me means these three things:
What is the proudest moment of your career so far, and what do you wish for in the future?
When I went to rehab, and when I started HOUSEFRAU – in order to get more women and minorities in the electronic music scene
Another one of my proudest moments is when I played Copenhagen Pride – it was on the main-stage at the City Hall Square and it was on the closing day of the festival, alongside this year, when I played the official closing party of Copenhagen Pride.
What I wish for in the future is to get on bigger stages, and for more people to listen to me and my music.
Can you share your plans for the rest of 2021 (and beyond that), and where can we see you play?
I have become part of the board of the cultural association at Culture Box. This means that I can come up with inputs and ideas for the things and events that are going to happen in there. I'm super excited about that.
I am also very much looking forward to booking DJs again for HOUSEFRAU, now that the world is opening up again and I can book DJs from around the world.
In addition, in 2021 I will develop and learn even more. I want to work on moving even closer to my music dream. I also want to focus on being happy and happy. Age presses and I become more and more aware that in order for things to succeed I need to be healthy and in balance and be good to myself.
Who knows, maybe it's also this year I'll get into a more serious relationship, finally, hahahaha.
I will play local clubs, Sø, Culture Box, Ved Siden AF as well as X Malmö and hopefully also go to play in Norway, as well as in Berlin and Hamburg at some point.
Thank you for having me for the interview Mai Schaarup, and see you at the next party!
Thanks for having me Philip and The Sound Clique!
And last, but not least to the fans – it touches me deeply everytime when I get messages in my inbox. It means a lot to me that you are with me on this journey.
Thank you for still being part of it after so many years!
---
Connect with SCHAARUP on Instagram and SoundCloud.