TSC Behind The Decks | Wehbba
With a string of chart-topping hits to his name and international success around the world, today Wehbba stands as one of Brazil's most widely-acclaimed and highly respected global ambassadors for techno. Over the years, Wehbba has unveiled a consistent stream of stand-out music, including three full length albums that span the course of a decade. As well as chartering original releases via benchmark labels Drumcode, Second State, 2020Vision, Bedrock, Elevate, Knee Deep In Sound and Systematic, Wehbba has delivered a series of resonant remixes for the likes Laurent Garnier, Danny Tenaglia, John Digweed, Stacey Pullen, Joseph Capriati, Stephan Bodzin, Marc Houle and ANNA.
In 2015 Wehbba moved to Barcelona, further establishing his craft within Europe's competitive techno scene, but it was 2017 which marked a pivotal year in Wehbba's career, as he made his debut on Adam Beyer's Drumcode Records with "Fake"; part of the A-Sides Vol. 6 compilation. The cut saw great acclaim within the electronic music sphere and blazed a trail for his inaugural Drumcode EP "Eclipse" in 2018, which stormed into the top 10 within days of its February release. He returned to Drumcode with another chart-dominating EP, his four-track "Catarse", gaining extensive industry support. A third Drumcode contribution appeared in the same year, as he joined the A-Sides Vol. 7 compilation with "Just".
Now marking his debut album contribution to Drumcode, Wehbba continued his rich vein of form in 2020 with the release of his album "Straight Lines and Sharp Corners" LP; a montage of immersive stories that reflect his decade-long career as 'the artist'. Pairing the conceptual anthology of productions with a debut venture into live performances, 'Wehbba's Live Station' is centered on a hardware-only setup that explores the uniquely spontaneous effects of recreating old and new compositions in a live environment.
I caught up with Wehbba to discuss his latest appearance on Adam Beyer's Drumcode records – for a very special 250th release, his mindful approach to music and creativity, his live setup and many other topics.
Hi Wehbba, happy to have you as a guest on our Behind The Decks interview series. How does it feel being back to normal with playing festivals, and gigs again week-in, week-out? 
Hi, thanks for having me. It feels amazing of course, even the more difficult travel requirements haven't killed the vibe, it's just a blessing to be able to share my love of music with the people.
What was your first memory of hearing electronic music? Was this the moment you fell in love with it and wanted to be a DJ? And who played the biggest role (as an inspiration, role model etc)., on you becoming a DJ and producer today? 
I think my first memory must be from the 80s when I was a kid, listening to Erasure, Information Society, New Order and some other synth/techno pop bands on the radio. I later went on to reject it during my grunge years as a teenager, but by the end of high school I was back into it, via Prodigy, Chemical Brothers, Underworld or Moby. There was this whole zeitgeist thing in the mid-late 90s around the DJ culture, lots of movies coming out like Human Traffic, Groove or Go!, or heavily electronic music focused soundtracks on cult movies like Transporting, Lola Rennt, Blade, even Matrix, Madonna releasing an album produced by William Orbit and so on. That really made me want to go deeper into the electronic music culture and become a DJ. There wasn't really as single role model, just this collection of factors.
How did you get into DJing and Producing? In previous interviews you have stated that you were studying to be a dentist, when you decided to also try out DJing and producing? 
I've been a musician since my early teenage years. When I started to gravitate towards electronic music, I've developed a strong curiosity around how it was made, so naturally as soon as I started to explore ways to become DJ, I also started to adventure into music production. That was all happening at the same time I got into dental school, so it ran pretty much at the same time. I spent all of my free time completely devoted to music. 

Wehbba live- Awakenings ADE 2021
There are a lot of DJs and producers, who have main jobs and music is only their 'side hustle'. What is your advice to them, on how to make music their main income and full-time job? 
It's difficult to give this kind of advice based on my experience. Everyone has a path of their own, my only advice is to follow what feels right and go  deep down, however challenging it may be. I took many risks in my life, abandoning my dentist career, moving to different countries a few times, but looking back it's always been about finding my freedom, and fighting for what makes me happy.
What was the first record you bought with your own money? What was the latest record you bought? 
It was an Erasure record, the "Stop!" single, when I was 10, spent my whole allowance on it, later that same day I also bought Prince's soundtrack for Batman..what can I say? I came with great taste, haha! I even got the Erasure record signed by Vince Clarke and Andy Bell a few years ago, at a meet and greet in Sao Paulo, it's probably my most valuable "trophy". The last record I bought was Innervisions by Stevie Wonder. 
What were your compositional and production challenges in the beginning of your music career, and have they changed over time?
I think it has always been a path of discovery rather than a path of challenges. Being a musician helped for the get go, and I've been writing music since I started playing any instrument. Whatever I don't know I tend to try as hard as possible to figure out myself before seeking out information, and getting creative with your limitations and knowing how to find information is the thing that can make you unstoppable.
You have a very mindful approach to being creative. You've stated that you understand when you are going through dry-spells or droughts and instead of actively trying to force your creativity, you focus your energy and time on taking some time-off by meditating, doing physical activities, listening to music, reading a book etc, which build up your creative instinct. It makes a lot of sense, and sounds like you are at peace with yourself. My question is, how did you get here? Did you struggle with the dry-spells in the beginning of your and did you make this routine work? 
I've been doing this a long time, I've screwed up over and over and learned a lot from all those mistakes. I think it's the best way to learn, whatever anybody tells you is subjective and relative to their experience, only when you find yourself in a hole and manage to get yourself out of it you can learn how to find your way out again and again. It takes a lot of self reflexion and self knowledge to know what can work for you, and that really only comes with experience.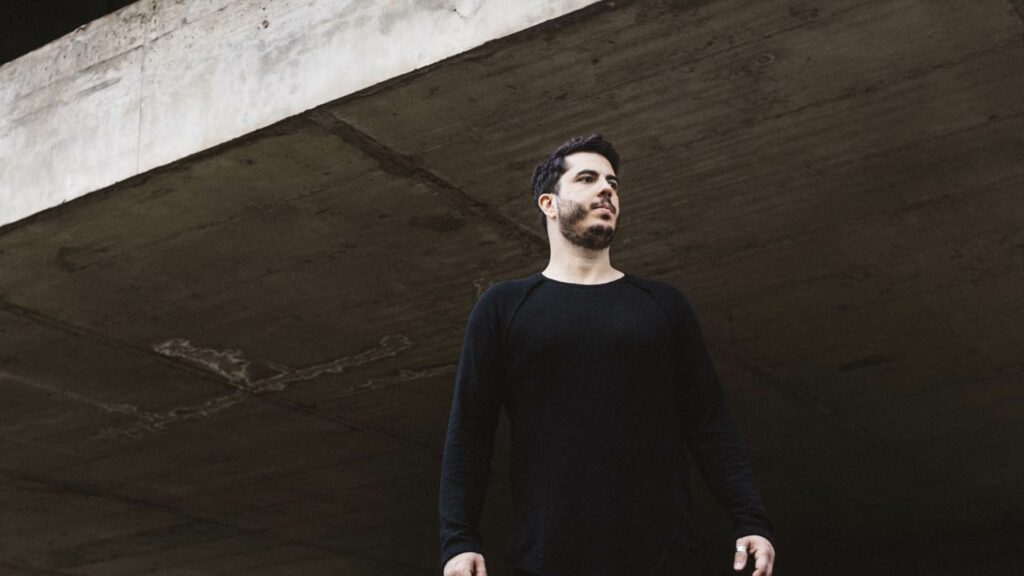 You have mentioned that in your studio you prefer to mainly use hardware to plugins.  What is the reason behind that and what hardware gear do you find yourself using the most?
I prefer the workflow surrounded with certain limitations, the tactical feeling of working with instruments, there's an aura around the machines I tend to pick for the studio that really intrigues me, and I also tend to get really focused on technical things when working in the box, while I'm more focused on the musical aspect of the sound creation and composition when I'm working with hardware. I have been using the Behringer Arp2600 clone quite a lot recently, as it's the last thing I've bought, but normally I am, very eclectic with my gear, I tend to use the whole studio regularly.
What are the similarities and differences between your studio and your live setup? From what I've read your live setup is generally composed of things you are comfortable with?
The Live Station setup is more performance oriented. It has stuff that can reproduce or get close to the sounds I can create in the studio with other equipment. I can use the Arturia Microfreak to create patches I would normally do with my Access Virus or Oberheim Matrix6 or even the Jupiter, and get fairly close, I even managed to recreate some Moog patches on it as well that sound pretty convincing, so it's really flexible as well as portable. The 303 obviously is a must as it features extensively in my productions, in the studio I use a few different clones, but in the live the TD-3 does it all without breaking a sweat. The TR8s is something I use both in the studio and with the live rig, and it's an essential part of my creative process. Same goes for the Octatrtack, it's a lot more versatile that my Analog Rytm also from Elektron, so that's the one I take with me on the road.
How long did it take you to develop and perfect your live setup, and what would your suggestions be to other DJs, who want to start playing live?  
It's an ongoing process, I'm considering a big change even now that it's all up and running, I'm not scared of taking chances, as long as it signifies improvement. But to get to where it is now, it took me about 2 years of research and development, as well as rehearsing. My suggestion is that whoever wants to adventure into live performance,  please make it fun, enjoyable and challenging enough to keep you interested and constantly evolving. And make it real.

You recently remixed E-Dancer – Velocity Funk, for Drumcode's 250th release. A heavy track! Tell us more about that remix? How did you get on it, how did you go about remixing and how would you describe it in one word?
In one word: Funky. I initially made an edit of the original to play in my live stream sets during the lockdown. I've always loved it and Kevin is a big influence for me. After a while I sent it to Adam Beyer, he really liked it and ended up sending it to Kevin, and that's how the whole idea for the compilation also came about. So once it was official, I went back to the project and refined it to make it a proper remix, but the whole point was to have fun with it, recreating and re-sampling the sounds, and making a banger.

e-Dancer – Velocity Funk (Wehbba Remix)
It's your farewell party. Are you warming up, headlining, or closing? And who else plays alongside you (before/after you)?
I'm definitely doing a long set, as I've done in my farewell parties! 
Thanks for being my guest for this interview Wehbba! 
My pleasure!
---
Connect with Wehbba on SoundCloud and Facebook.