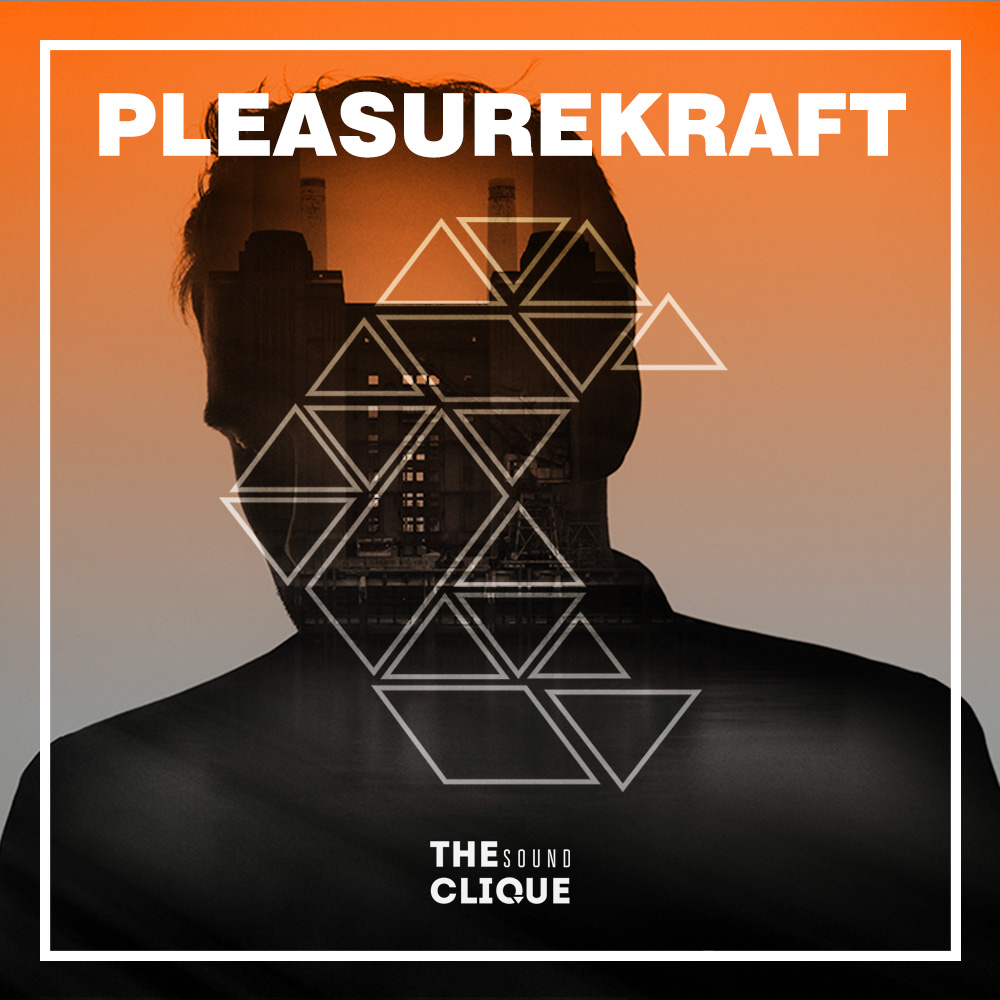 TSC Behind The Decks | Pleasurekraft
This Saturday the Copenhagen based music label What Happens with head honcho Tim Andresen is celebrating its 10 bday (hooray). To celebrate the big 10, Tim Andresen has invited Pleasukraft for an exclusive DJ set, whilst label favorites Steffeh H, Ian Bang and Denis Horvat will takeover the Red Box.
This is the second time Pleasurekraft will step into the legendary Black Box at Culture Box, after the debut last year. After laying down one of the best sets of the year in the Copenhagen electronic music club, and the party being one of the most talked about, the excitement for Pleasurekraft being back is big! We caught up with Kraftek's label owners in advance to talk about their musical influences, upcoming releases including the vastly anticipated Tarantula rework.
Who are the artists that have influenced Pleasurekraft the most and in what aspect – production or DJing?
The band Tool, producer Daniel Lanois for his incredible ability to build texture and sonic landscapes with just the sound of a single guitar (he's produced several grammy winning albums including his own solo material, Emmylou Harris' "Wrecking Ball" album is one of my favorite 3 albums of all time – I cry just hearing some of those songs and how incredibly beautiful they are). When it comes to electronic music, I would say Pig & Dan are the group that has been for me personally the benchmark for great sounding productions that are clean but don't sound overproduced. Not that I love every track they make from a creative standpoint – but from a technical standpoint I look to them as the leaders of the pack.
Where or in what do you find motivation to continue creating and being such a successful electronic music duo?
It sounds kind of funny but I think the single thing that has been most influential especially in our shift to techno has been Space. No not the club. But literally the vastness that surrounds our little blue planet we all live on. I've always been fascinated by the Universe since an early age – as has Kalle – but for some reason I find so many things about the Cosmos so incredible and inspiring that now when I sit down to make a record – and come up with a sketch – the absolute very first question is – does this sound like a soundtrack to watching images of the Cosmos in all its grandeur or not. If not – that project gets scrapped and its on to the next thing. In my free time I try to read/watch/listen to as much astronomy related things as possible (but don't mistake me for some Star Wars geek – I mean the real stuff – not Sci Fi – although that being said Stanley Kubrick's "2001 A Space Oddyssey" is one of my favourite films of all time – so much so that our label's logo is inspired by it)
Your rework of one of your classics 'Tarantula' is out next month on your own label 'Kraftek'. Since the original release 7 years ago your style has shifted to the darker and deeper side of techno. How would you describe that change, what prompted it, and are there any other musical styles you want to further explore in the future?
It's been about 2 years now (for the few that have been paying attention) that we switched over to almost exclusively making techno. I think the change has really been a combination of factors – first and foremost being how stagnant and boring tech house has become as a genre. Maybe its always been that way and its us that have changed – who knows – but all I can say the very few times I have even checked on what's happening in tech house I feel I would use my time more wisely watching paint dry. In addition Kalle's interest and hands in other production projects outside of Pleasurekraft have allowed me to focus more on the harder, darker stuff. As far as other musical styles, while we both have quite eclectic taste – under the Pleasurekraft umbrella I'm not sure if there are any drastic style changes on the horizon as I'm very happy and proud of the sound we are putting out at the moment – but who knows – if we got bored with tech house before – maybe the same will happen with this 'Cosmic Techno' sound as I like to refer to it – that we are putting out now.
Music production wise – what hardware and software did you use for the rework of 'Tarantula'? And could you tell us more about your approach when it comes to remixing? What was the whole process for your remix of 'The Spell' by MATRIXXMAN?
Actually there was no hardware used in the Tarantula original or remake. Its all VSTs etc. If you can really get good at knowing how to use EQ and compression to their maximum potential – the possibilities for getting your records to sound warm and massive are endless (A great mastering engineer also doesn't hurt!) That being said – for the Matrixxman remix I did use a modular synth for one of the main lead sounds that runs through almost the whole record.
Last year you played for the first time the What Happens party and it was one of the best events of the year in Culture Box. This Saturday is What Happens 10th birthday. What do you want to say to Tim and his label, and the fans ahead of your gig here this Saturday?
When you are lucky enough to play all over the world every weekend, you see alot of amazing parties, and sadly alot of shitty ones. And of course alot of the stuff in between after a while tends to blend together in the memory bank. That being said – the last time I played at Culture Box for Tim (which also happened to be my first time there) was one of those legendary nights that you hear traveling DJ's refer to by saying "I could have played anything and they would have been up for it". You don't get alot of those in a career – but when you do – you always remember them long after the music has ended and the lights have come up. I'm just hoping that the old Sade song "Never as good as the first time" does not ring true this coming Saturday when I return to Culture Box haha.
What are the plans until the end of 2017 for Pleasurekraft? Any new tracks or special shows planned?
This whole year really has been all about putting our best material out on our own imprint – Kraftek. After being in this business for several years now – and having signed some of our best music to other labels, I felt it was time for us to really begin to make a name for our label and really champion a very specific sound. Not that I'm not proud of the various types of records that have come out on the label – but starting with our record "Rigel" which came out earlier this year – I really want to make it abundantly clear to the world – that this big room atmospheric hard and dark techno with moments of melodic beauty – which I refer to as "Cosmic Techno" is really what the label is going to be known for moving forward. That and great Cosmically inspired visuals which we actually put a lot of time and thought into! 🙂
---
Connect with Pleasurekraft on Facebook and SoundCloud.
Connect with What Happens on Facebook and SoundCloud.
Link to What Happens 10th birthday party with Pleasurekraft here.