Staff Picks- Week 17: AUGMENTED SIRENS, Techno in the Garden, Ambient Forårsdag + 48 Timer Festival
The Sound Clique's 'Staff Picks' events, streams and workshops for week 17, 2021 present to you:
AUGMENTED SIRENS

Techno in the Garden // Andrea Martini & friends

Ambient Forårsdag // 48 Timer Festival
*At time of writing, all events are subject to change (date/ venue) due to current COVID regulations*
Wednesday the 5th of May 12:00- 13:00
AUGMENTED SIRENS @ Øen's Baghave
Date 5th May, 2021, 12:00
Øen's Baghave
Augmented Soundscapes
Sound artist Julie Østengaard will perform live the premiere of AUGMENTED SIRENS in interaction with Copenhagens annual warning signal, which is tested every year on the first Wednesday in May at 12:00.
The signal, also known as "Store Hyledag", is tested once a year to ensure that the population does not forget the siren and its significance. This year, Julie Østengaard will change this meaning – from a danger signal to an artistic sound experience.
In total, the concert will last almost 10 minutes and can be experienced in Øens Baghave.
The concert will also be live streamed at the event.
The concert is part of the sound artist's site-specific concert project "Augmented Soundscapes", which is based on special sound environments and stages them via music in a different interpretive framework. By both harmonising with the sounds of selected places and creating music based on direct recordings of them, new listening situations are created where the original context of the places change.
Friday the 14th of May 16:00- 21:00
Techno in the Garden // Andrea Martini & friends @ Byhaven Pumpehuset
Date 14th May, 2021, 16:00
Byhaven Pumpehuset 
Facebook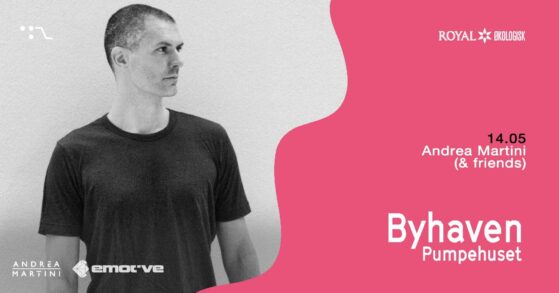 Free entrance and live music from 16:00
Andrea Martini will perform an extended set, supported by Remodel, Without K and Monika Fasula.
Listen to Andrea Martini on Spotify
Saturday the 15th of May 13:00-16:00
Ambient Forårsdag // 48 Timer Festival @ Øen
Date 15th May, 2021, 13:00
Øen 
48 Timer Festival
LINE UP
Third Wife
Fruit

ØEN and 48 Timers Festival invite you to Ambient Forårsdag in ØENs backyard. The event is a part of 48 TIMER FESTIVAL, read more about the entire program and line up on the website.
The festival is supported by Nørrebro Lokaludvalg, Tuborgfondet og Nordea-fonden and collaborates with Blågårds Plads, Blågården, Union, Osramhuset and Nørrebrohallen.