Distortion 2023 releases full line-up for 25 years festival anniversary
Distortion Festival 2023 releases full line-up for 25th anniversary edition
Distortion is ready with headliners for Distortion Ø on the 2nd-3rd. June on Refshaleøen. Distortion Island, the Nordics' largest electronic music festival and the weekend finale at Distortion with 40 stages and 40 artists, reported sold out last year. This year, the techno phenomenon Charlotte de Witte has reported his arrival.
When it's time to rave again on Refshaleøen under Distortion Ø, German Monolink is ready to give audience a dreamy experience. He is one of the biggest names in melodic techno with a massive global fan base and his set from Burning Man has over 20 million views. Monolink blends singing, guitar and songwriting into his electronic compositions, and balances emotional depth with rhythmic momentum. Monolink headlines Distortion this year, and it's his 2nd time plays in Denmark, since his debut as a rising star 7 years ago on Distortion Ø. Charlotte de Witte, one of the world's biggest techno artists, is also ready behind the desk. She plays dark, raw and minimalist techno and stands proudly on the Belgian heritage within the rave tradition.
Charlotte de Witte is a definite techno phenomenon who has dominated it in every way international stage for the past 10 years: She has played Tomorrowland, streamed from the Autodromo
Internazionale del Mugello racetrack in official collaboration with Formula 1, and in 2022 she was named to "The World's Number 1 Techno DJ" on DJ Mag's Top 100 list. ANNA is a new electronic great hope, which is called "the dark horse of techno". The Brazilian DJ and producer has her Danish debut at Distortion 2023. She last played at Coachella in 2022. The Palestinian selector DJ Sama Abdulhadi also plays his Danish debut at Distortion Ø. She has transcended her hypnotic, technical and high-octane Lebanon-meets-Berliner techno Beirut's underground to dance floors all over the world and she is the first Palestinian DJ who has achieved international success. Detroit producer Moodymann, known for his groovy, plays down a completely different ballpark samples, with roots in house and classic disco, which seduces its audience as setting the mood hype man. His hybrid between newly created riffs, low-slung bass line and disco, merges with soundbites with artists such as Stevie Wonder, Marvin Gaye and Chic. Another American, Bronx- producer Kush Jones plays fluid and high-energy selections and smoothly switches between
footwork, classic house and techno. French Trym blows the audience away with its innovative sound of big synths, emotion, techno, fast techno, hard house & dance and early hardstyle. The Italian duo 999999999 provides a real get your head intoxicated with his raw, industrial and analog-based machine music. The duo improvises everything new from the ground up and are also label owners of the company NineTimesNine and absolute spearheads in the new generation of techno artists.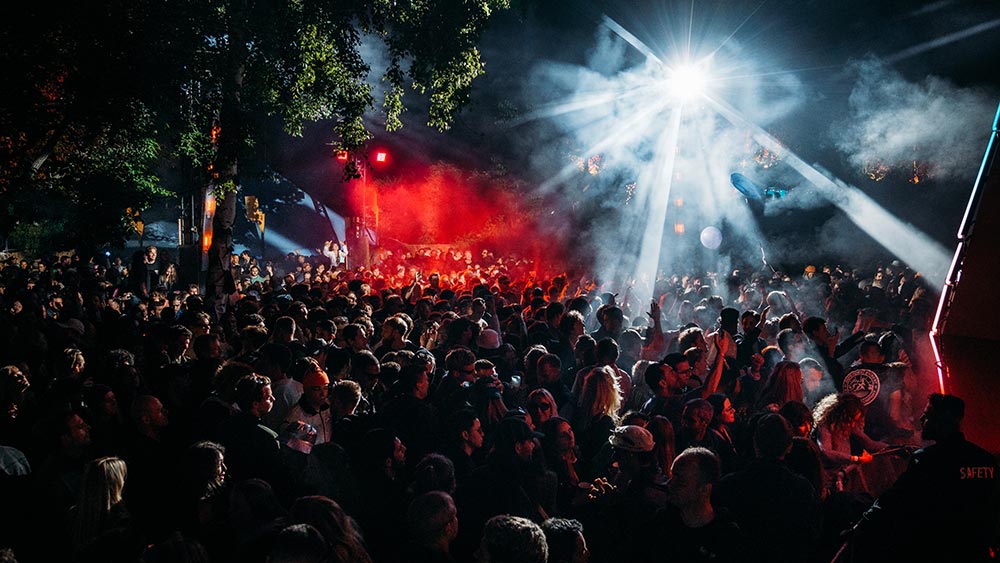 Photo credits- Arthur Aizikovich
Danish Courtesy has catapulted from the Copenhagen underground to international success in just a few years. She is a central figure within the fast, dark, melancholic Copenhagen wave, which she describes in his own words as "heartbreak techno". Another shooting star on the same stem is Danish Mama Snake, and Courtesy's former colleague in Apeiron Crew, who alternates between sensitive atmospheric and grandiose techno.
The Hamburg-based producer Stimming creates ambient, detailed, melodic soundscapes. He is known for building his sounds from scratch through field-recordings and making improvised ones sound effects during his live sets. German Joseph Disco plays psychedelic techno. He has been resident DJ at Cologne's legendary club Playground and has also played at Wilde Renate, Berlin's Love Parade and Fusion Festival.
Distortion celebrates its 25th anniversary in 2023. The festival takes place from Wednesday 31 May to Sunday 4 June, and as the city's party, it spreads all over Copenhagen with street parties, concerts, activities and art in  the urban space, aimed at people of all ages. You can read more about the festival's many concepts and buy Festival pass, Distortion Ø partout as well as Friday & Saturday one-day tickets cphdistortion.dk
Distortion Ø, 2.-3. June 2023, is a spectacular forest and asphalt rave and the weekend finale on Copenhagen's Distortion week, with 40 artists on 4 stages, where the party continues until sunrise.
Address: Distortion Ø, Refshalevej 185, Refshaleøen, 1432 Copenhagen
Distortion 2023 Line-up and timeline
Friday 2 June
Beige (US)
The Blessed Madonna (US)
Charlotte de Witte (BE)
Eris Drew & Octo Octa (US)
Honey Dijon (US)
Mama Snake (DK)
Palms Trax (UK)
Stimming (DE)
999999999 (IT)
Saturday 3 June
ANNA (BR)
Courtesy (DK)
Danilo Plessow / MCDE (DE)
Joseph Disco (DE)
Collective Turmstrasse (DE)
Kush Jones (US)
Monolink Live/(DE)
Moodymann (US)
Sama Abdulhadi (PS)
Trym (FR)