CPH:DOX 2018 presents Max Cooper, Marshall Jefferson x Boiler Room & more
The best film festival in and for the world

Copenhagen International Documentary Film Festival – also known as CPH:DOX is one of the biggest documentary film festivals in the world. It's fifteenth edition is happening once again in the Danish capital from March 15-25, and will show more than 200 documentaries from around the world, with a wide range of music and visual art events, exhibitions, seminars and more.
History of CPH:DOX
Founded back in 2003 CPH:DOX has experienced a tremendous growth over the last decade growing from 14,000 admissions in its first year to a record-breaking total of 97,500 admissions last year and is being heavily supported by both national and international film professionals and press. 
The cph dox program ranges from the works of major international directors to new talent, from large-scale theatrical releases to film/video works in the field between cinema and visual art. And regardless if the topic is political, philosophical, experimental or focused on a narrow section of the world, the documentary films at cph dox expands and questions the viewer's conception of the world. 
"CPH:DOX doesn't just show documentary films – we anchor them in social context through debates, artist talks, events and masterclasses. In the hope of creating real social transformation, CPH:DOX establishes a space for reflection, dialogue and opinion across the population, with that making sure that the films and the problems they pose stay with the viewers long after they leave the cinema."
More than a film festival
CPH:DOX has evolved over the years to more than a film festival by connecting all art forms, from film to visual art and music events. During the eleven days of CPH:DOX 2018 the festival will present a wide spectrum of art exhibitions, professional seminars, a screening market, the film production program CPH:LAB, and its concert series – AUDIO:VISUALS which we will cover in more detail below.
CPH:DOX – AUDIO:VISUALS
AUDIO:VISUALS has been on the grow every year since its establishment in 2010 as part of cph dox program. Over the years it has resulted in a number of unique and distinctive concerts – and this year is no exception.
AUDIO:VISUALS is CPH:DOX's concert series, that invites you to immerse yourself into unique performative experiences that combines visuals and music in special venues and unusual settings. Danish and international musicians are challenged by renowned filmmakers, visual artists or films from the program – and they are giving themselves the opportunity to develop their own visual and auditory experiments.
In cph dox 2018 music program we will witness an influx of talented musicians from Jenny Wilson, The xx (dj-set), WhoMadeWho x Red Bull Music, Hot Chip (dj-set), Blondage, Liima, Schultz & Forever and Saint Cava. Meanwhile BBC Planet Earth II will present a 'live in concert' event with music composed by the acclaimed German film score composer and producer Hans Zimmer.
Club events at CPH:DOX 2018
CPH:DOX x Boiler Room
The opening party of this CPH:DOX 2018 is in a special collaboration with Boiler Room's new film channel 4:3. CPH:DOX will be screening the new documentary 'I Was There When House Took Over The World'. The movie features legendary Nile Rodgers together with other influential figures recall, how the fall of Disco music made way for another underground dance movement hailing from the gay community, which we today know as House Music.
After the film the iconic Chicago DJ & producer Marshall Jefferson will join for a Q&A with Boiler Room's Amar Ediriwira at cph dox Social Cinema, followed up by a DJ set in Charlottenborg. The party will be closed by Kasper Marott with a vinyl dj set. The Sound Clique will join the party and stream live on our Facebook and Instagram channels. 
Ticket price for film + party: 65 DKK SOLD OUT
Ticket price for party only: 35 DKK SOLD OUT
CPH:DOX x Vega pres. Max Cooper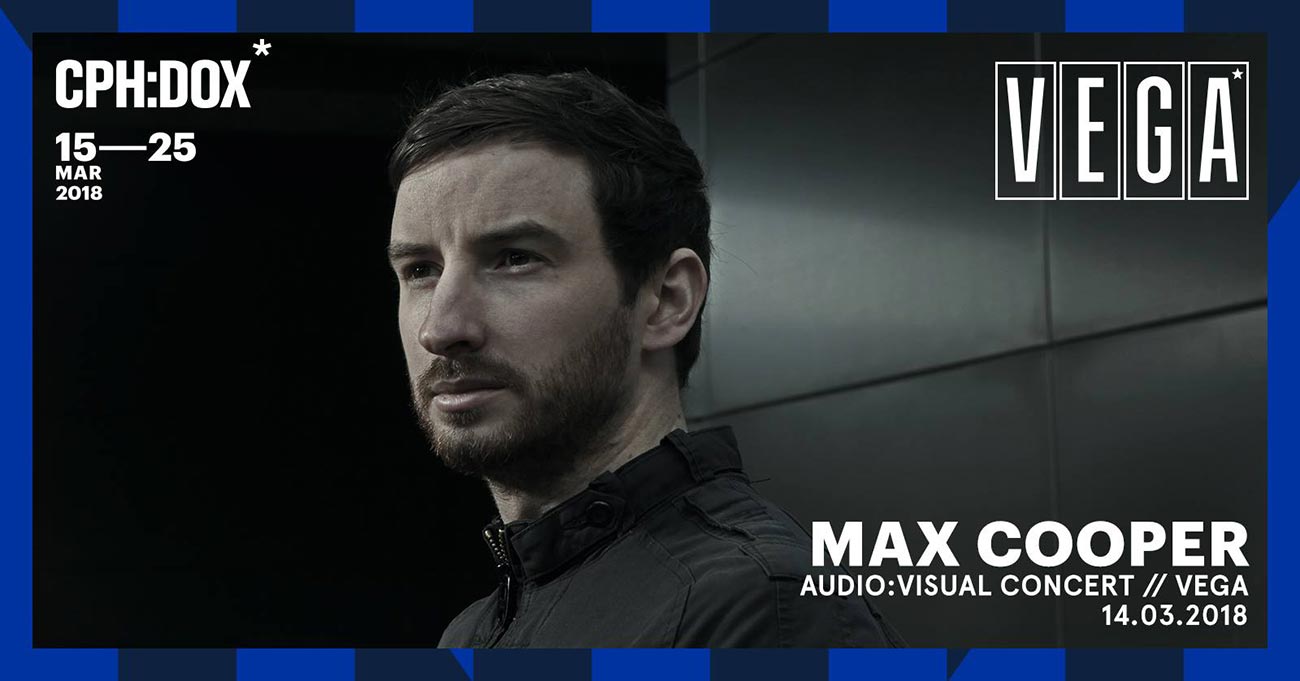 Max Cooper, the musician and professor in bioinformatics returns to Copenhagen after we last saw him at Distortion Festival 2017, with his captivating electronic music – this time as part of cph dox 2018 concert series AUDIO: VISUALS. On his recent EP 'World Passing City', Max Cooper has worked with different interpretations of the term of time. Max Cooper is discovering the ubiquitous and inevitable experience of the term. The electronic music DJ  & producer is an eminent sound designer, who has also deepened in the intersection of science, music and art on previous releases.
"I wondered if our experience of time could be explained … where time is just a physical dimension in which things grow, with us experiencing now as the cusp of inflation."
Both the visual and musical ideas for the epoch are emitted by train journeys, which have since developed into individual tracks in the study. In collaboration with the experimental visual artist Kevin McGloughlin, Cooper has also created a video presentation of World Passing City, which will be shown to the concert. Science and nature seem to fit perfectly with Coopers organic dark tones and heavy basses. The wide palette of sounds and moods in Cooper's compositions creates both light and darkness. It strikes in a wide range of state of mind, whether you're in the nightclub at. four at night or lying in bed on Sunday morning.
Max Cooper cph dox 2018 x Vega – Ticket price: 205 DKK
CPH:DOX Program 2018
For more information and full cph dox program 2018 click here.