The Complete Guide to Distortion Festival 2019
Distortion Festival 2019 is back for its 21st anniversary, and promises another edition of amazing musical experiences. 
One of the biggest street and outdoor festivals in the world – Distortion Festival never fails to turn the dazzling city of Copenhagen into party haven year after year. This year 29 May to 2 June 2019 several locations in Copenhagen will become massive street party venues gearing up to a grand two-day finale called Distortion Ø at Refshaleøen. Having already announced the staggering line-up for this year's edition, Distortion Festival is ready to write another year off the books to what it seems will be another memorable edition. Some of the artists for Distortion 2019 announced so far are Solomun, Charlotte de Witte, Lehar, Johannes Brecht, Stimming and others (scroll down for more). 
What to Expect at Distortion Festival 2019
The main person behind Distortion is Thomas Fleurquin – Parisian born, Copenhagen based, who started the festival back in September 1998. A little known fact is that the first Distortion edition was held to celebrate the second birthday of the Copenhagen Post's listing guide (a Danish newspapper co-founded by Thomas Fleurquin). 
Read our interview with Distortion's founder Thomas Fleurquin
The concept of the festival was primarily to gather like-minded people with a love for street culture mixed in with an international club feel and surrounded by the diverse sounds of local artists, from classical music to rap music and complemented finally with mesmerizing electronic music.
In 2000, Distortion expanded from being a one-day to a five-day festival, taking place all around Copenhagen city. Distortion Festival takes place across central Copenhagen neighborhood streets, some of the city's iconic electronic and rap music clubs, galleries, bridges, party buses and boats and more. Everything you can possibly imagine has been turned into a stage or a venue already or is in the making. Over the last 10 years it has grown from 5000 festival goers to a staggering 120,000 daily festival goers and over 300,000 throughout the entire Distortion festival. Some of the leading clubs and brands in electronic music culture have hosted their own parties at Distortion, such as Vice Magazine, Resident Advisor, Fact Magazine, Red Bull Music Academy, the legendary clubs Fabric and Trouw, as well as Kompakt Records to name a few.
Distortion Festival Street Parties
Distortion is well known for its street parties, the mad rave, distorting the entire city. The street parties are annually kicking off Distortion Festival, starting with the central Nørrebro neighbourhood on Wednesday and Vesterbro on Thursday. The daytime street parties run from 16:00 PM until approx. 22:00 PM, after which the parties continue throughout the night in different clubs across Copenhagen, as part of the Distortion Club programme. In 2019 venues will be Culture Box, Pumpehuset, Ved Siden Af, H9 and other. 
Distortion Festival 2019 – Street Party Stages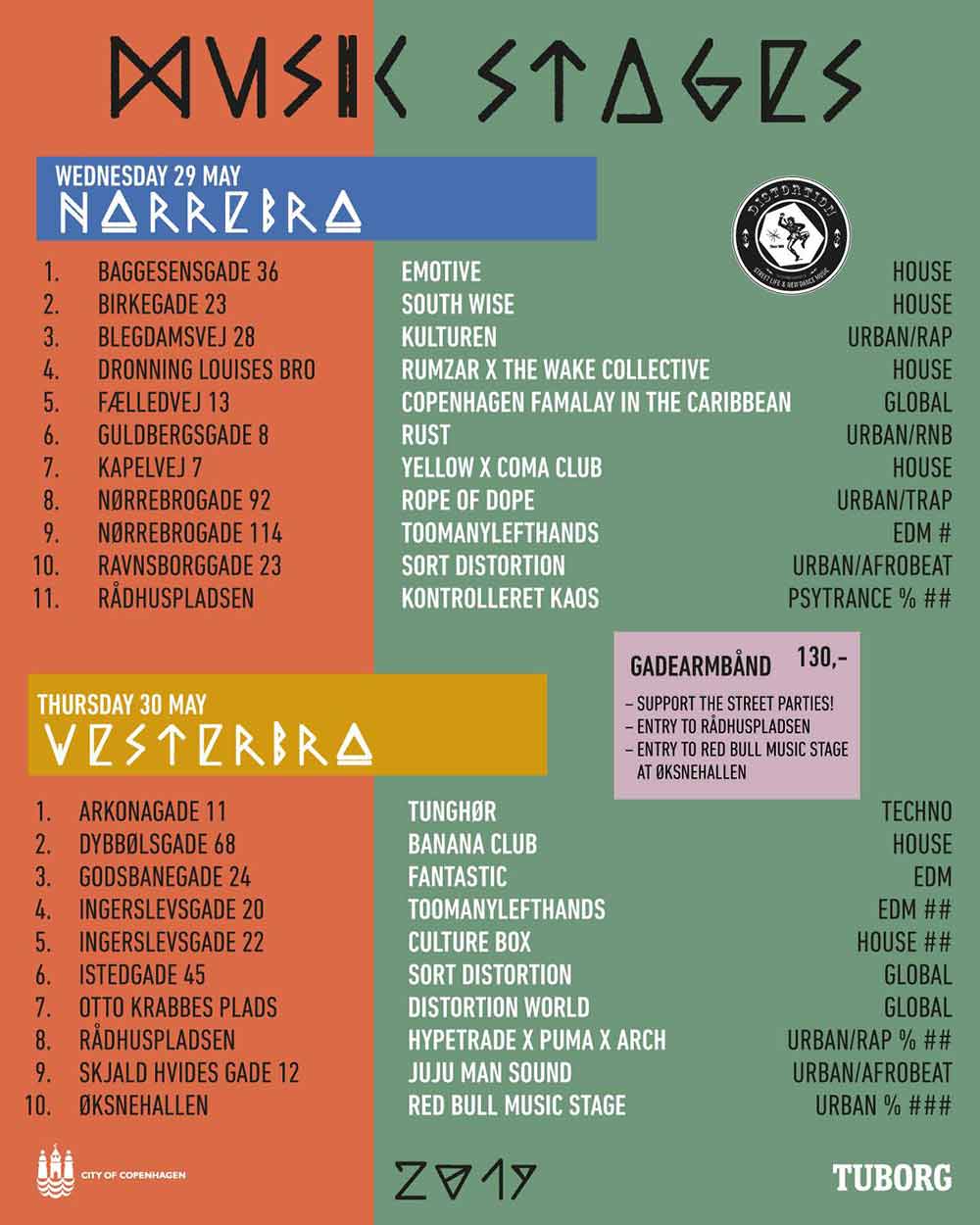 Distortion Club 2019 programme
Wednesday
Thursday 
Culture Box  – Mark Knight (UK) + Christian Nielsen (DK) + Ian Bang (DK) + Anëk (DK) Facebook Event

Ved Siden Af Galactic Fjord Night Part 3: Skatebård (NO) + Marc Helt (DK) + Antichristiansen (DK) Facebook Event

H9 Meggy (DE) + Schaarup (DK) + Fedty (DK) + Anastasia Wilson (DK) + Julie Reistad (NO) Facebook Event
Friday
For the full Distortion Club 2019 programme click here.
Buy Tickets for Distortion Festival 2019
"It's wild and dirty, it's fractured and feverish, and it involves consuming music at eardrum-bursting decibels."
In addition to the club parties Distortion Festival also adds secret party locations, which over the years have ranged from warehouses, swimming pools, museums and even the Royal Danish Theater. Stay up to date for any secret party announcements on our Facebook page. 
Distortion Ø 2019
The third and fourth day of the festival take place along the Copenhagen Harbor at Refshaleøen, and is known as Distortion Ø. This is where the festival kicks up in gear with a massive rave taking place on more than 12 stages at the former industrial site. Distortion Ø is a large outdoor dance floor labyrinth, where you can lose yourself in the industrial and woods settings, mixed with urban sounds, neon lights and lasers. The location is an experience all in itself. It includes a combination of urban jungle with a warehouse rave vibe, all taking place at different open air stages spread throughout a forest within the industrial site of Refshaleøen. Some of the djs gracing the stages of Distortion Ø over the years have included Maceo Plex, Tale of Us, Dixon, Tiga, Michael Mayer, Mano Le Tough, DJ Koze, Helena Hauff, Soul Clap, DJ Harvey, Todd Terje, Boys Noize and many more. 
Distortion Ø 2019 will host the likes of Adana Twins, Kollektiv Turmstrasse, KiNK, DJ Tennis, Hunee, I Hate Models, Dekmantel Soundsystem, Young Marco and many others.  
Distortion Ø 2019 Full Line-up
Buy Tickets for Distortion Festival 2019
Distortion Festival 2019 Trailer
---
Image copyrights The Sound Clique, Kasper Månsson, Daniel Liversage and Distortion Festival.