TSC Behind The Decks| Boyan
Boyan is an up and coming producer with an ever-evolving sound. He is known for his dance music projects behind his back. Starting out as a trance producers, who has dived into the depths of future sounds is now sitting with us for a last summer interview before we transition smoothly to slow September.
How did you get into music production? What do you find fascinating about it?
It all started with my DJing experience, and it came to a point where I felt like spinning [music] was not enough for me, therefore I grew a desire to make music. Randomly I stumbled upon a PC Magazine with a demo of Fruity Loops in it.
I think we all have that issue.
I think so, too. After I installed it, it felt like rocket science to me, however, not long after I discovered Ableton and steadily I started making my own music.
How old were you?
I was 15. I started producing properly at about 16-17.
How is your current spinning experience different to when you played other artists' music exclusively?
There's a difference indeed, especially when you see the audience's reaction to your music. The excitement feels thousand times stronger! Moreover, when you're a producer, spinning feels different, as you know what you've invested in a song. When you're playing your own music at a gig, you think of when, how and where to integrate your music within your live mix and to what audience to spin it to. It's more specific, that's why I believe that DJing and producing go hand-in-hand. Also, there are just a few exceptions, where someone is exclusively a producer or strictly a DJ, and successful. Nowadays, both practices must go hand-in-hand, otherwise it won't work.
Since you're an academically trained musician, what is your viewpoint on "bedroom producers"? Does your music-making process conflict with the methods of bedroom producers?
No, not entirely. "Bedroom producer" is an idiom that sounds a bit ugly to me. At the end of the day, it's a term used to describe a process of making music. I am simultaneously 'for' and 'against' it. To a certain extent, I am a bedroom producer myself. I'm not an artist who has an extremely professional studio or a big team behind his back. I'm the person who makes everything work. Due to the accessibility to technology, nowadays we have bedroom producers. Back in the day it was much, much harder to record a song. You have to go in a studio, get someone to record you, pay that person and wait for him to fix every twitch. Now all you need is a laptop, and that's an advantage. If the technologic boom didn't happen, most probably I won't be doing music right now.
On the other hand, the problem is that anyone can become a producer. It's actually full of producers! 300 songs are released daily on Beatport.com. This means, if you are not someone who makes music with the intent to create quality music, then you'll most likely fail, as the scene is overcrowded and you won't reach a highlight. It's full of generic music and it comes to a point, where people feel oversaturated, but that's how we distinguish the good product from the bad one.
Was finding your own sound a long process?
I started out as a trance producer in 2008, as it was the first EDM genre I came across, but the scene became very boring. Previously I was a hardcore rock and live music fan. Then I switched to House music, more specifically Electro House. I thought of its hard club beat and the way it leads the crowd as quite captivating, and that was the reason why I paired up with Randy Boyer. However, the scene was consumed by the EDM hype. Currently progressive house, deep house, electro house, all these genres are encapsulated in a single slogan – "EDM".
Subsequently, 2012 was a watershed for my music, as I was exposed to tons of hip-hop and R&B. I instantly loved it and that's when I knew that it was my music style. That's how I started developing my current sound. I'd like to mention that my music is not static. I always feel the need to produce music of different genres. For example, my project with Maria, which integrates Bulgarian folklore singing, is something completely new to me. Six months ago I didn't even know I could listen to our folklore music, but now I do. There isn't a fixed formula for my music as it is constantly evolving, so keep looking out for my projects.
Would you call yourself a music chameleon then?
Absolutely. I'm a person who musically follows firstly what he hears, and secondly, what he feels. It doesn't matter to me, if you play to me church music, country, hip-hop, raga or oriental trap as I consider it a limitation. That's why I don't label my own genre. People use labels to create definitions, but for me music splits into "good" and "bad".
Can we say that you are someone, who feels music, not just simply listen to it?
As Sidney Deane says in "White Men Can't Jump": "there's a difference in hearing and listening".
Who are the most influential artists in your music?
There's plenty of them. One of the people, who influenced me the most, is Galimatias. As soon as I heard him, I couldn't comprehend how he made it, as it was something unique for me. His music definitely gave me a direction. FKJ, that's someone, who makes very funky music. What's amazing about him is that he's a self-educated musician, who plays 10 instruments and sings, and the fact that you know he learned it all by himself, makes you go numb. Also, I discover new talents daily from whom I learn a lot.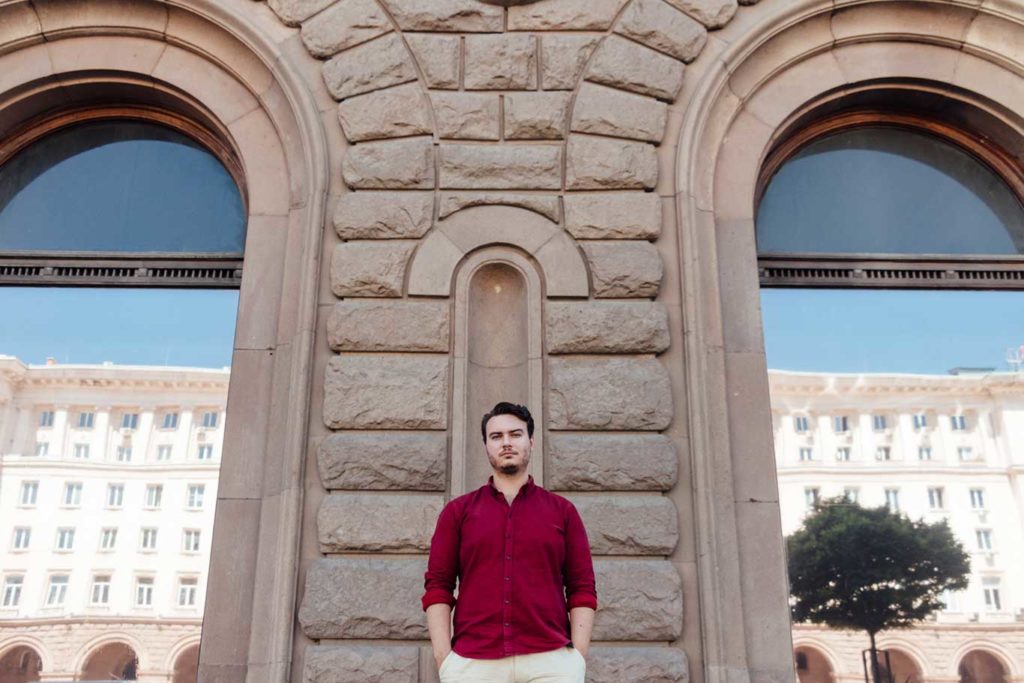 Can you say that you like more unconventional artists?
For sure, I always try to improve, and avoid, the fixed criteria. That's why I like artists who follow that themselves. I like popular artists as well. Justin Timberlake, for instance, but we're talking about an artist who has a big team supporting him.
If you could pick one of your songs and play it to the whole world, what song would you pick and why?
I'd say 'Atmosphere'. There's something really special about it. Other people told me before they've felt like it's special. Moreover, another reason it feels so special to me is because it was my first solo release after the project with Randy [Boyer], and Joshua's (J-Rican) voice blends perfectly with the instrumental.
How do you start a new song?
It's different with each track. It depends on my mood, the inspiration that I've gathered, the weather outside, whether the neighbours are awake or not [laughs]. It isn't a standardized process. I usually start off with piano, followed by a drum pattern and bassline, although they get altered 90% of the cases. I've had situations where I've worked on tracks for 3-4 days in a row and ended up deleting them. I've also had situations where I've finished off songs in two hours. Routine processes produce routine music.
What analog gear do you use in your productions?
Piano.
Any music production tips and tricks that you would like to share?
Don't use the same project file
Do not introspect yourself in your own music
Do not listen to other people and follow your gut
Finally, make music for the love of music and for your own pleasure
Which song took you the longest to finish and why is that?
Undoubtedly, the award goes to 'Find A Way' with Mariya. It took us a year to finish it, but the track turned out better than expected, so we were happy with the result.
What kind of voices do you like for your own music?
I'm kind of biased. I find female voices more pleasant. Even my music is more suitable for female vocals. I'm always looking for a voice that is softer, more melodic or even airy. Alina Baraz is a perfect example.
If you could work with your dream collaborators, who would they be?
Galimatias. He's my top producer and I'd love to work with him. I don't even care about the technical bit rather than his approach, such as the way he thinks musically. His music is different and I'm really keen to see how a collaboration process between us will go down and if I'll be able to contribute. Another one is Skrillex and the same applies to him. It's funny how four years ago his genre was perceived as repulsive. Few months down the line, it was considered amazing. I could keep naming artists, but the list is being updated almost daily.
You've remixed Darude's 'Beautiful Alien' and it was released by Sony BMG. How come a Bulgarian guy managed to remix one of the biggest names in dance music?
Randy Boyer and Darude have a label called 'Enmass', so Randy came to me and asked if we'd like to remix the tune. I instantly agreed and, in fact, Darude somewhat became a fan of our work with Randy He's very down to earth, friendly and aware of the joy of music. He's going to continue making music and he doesn't care about the haters. The fact that I consciously worked on a remix that was going to be unveiled via Sony BMG served as a great motivation. That's why we worked with Randy on a heavy-bass Future House remix and we wanted to deliver a quality product.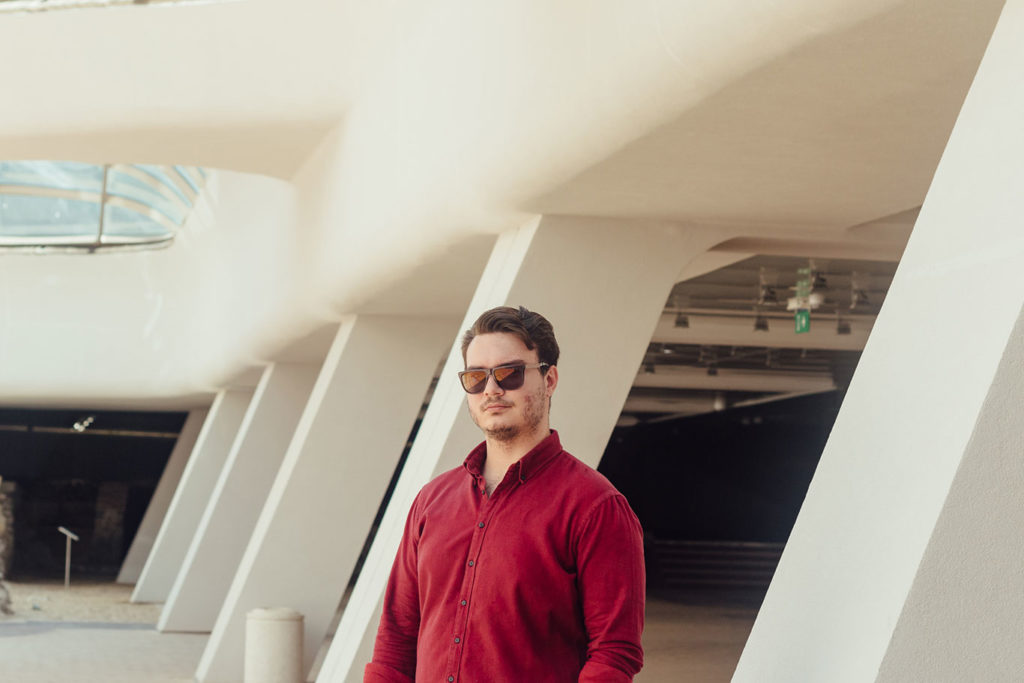 Your Sony BMG release is not your only peak. Quite recently BBC Radio 1Xtra aired one of your tracks. How did that feel, since you are one of the four Bulgarians ever to be played on BBC's radio waves?
I was really surprised when I found out. It was amazing and it wasn't like being played on a local radio station's morning show. One of the biggest radio stations in the world played one of my works. The track, 'Be Right Here', was my first proper Drum'n'Bass release and managed to achieve success. The song itself is very special to Randy and me as we felt it. We wanted to assign a feeling of smoothness and lightness to it.
If you were to premiere one song on BBC Radio 1, which one would it be and why?
'Another World'. It's a combination of unique harmony and Bulgarian folklore singing, which is very special in itself. I think most people will like it because our national singing gives goosebumps. I'm sure most people will like it and I'm having high expectations for this project.
What can we expect from you in the near future?
I'm still working on my 'days of the week' music series. Furthermore, I'm working on my project with Mariya, which will be a full-length album.
---
Connect with Boyan on Facebook and SoundCloud.
Images copyrights Stella Ananieva  / Taken exclusively for The Sound Clique