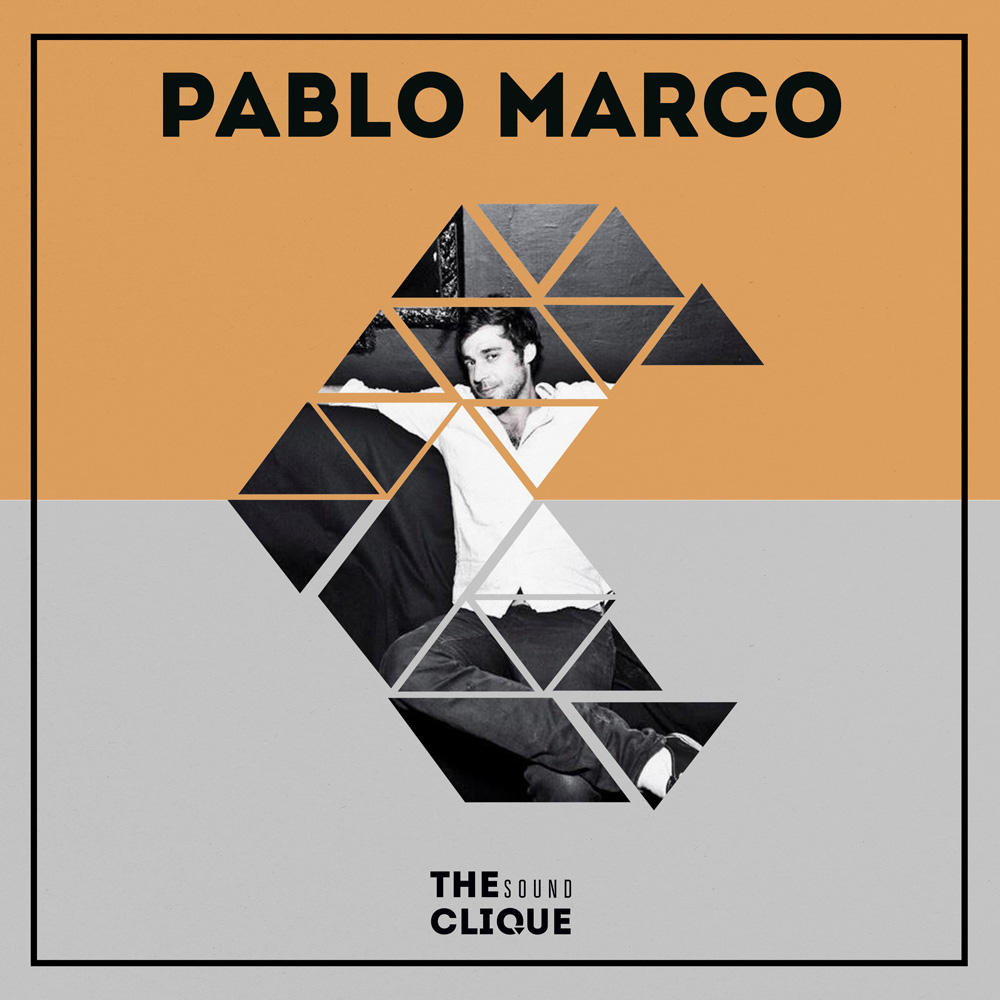 TSC Behind The Decks | Pablo Marco
We are excited to share with you today an interview we did with Spanish born and raised DJ, Pablo Marco. In between his hectic schedule, including a new EP for Jonny White's label No.19 Music, gigs in Ibiza as well as all over Spain and Europe, we were able to talk with Pablo Marco about his career, how it all started and what to expect from him in 2016.
How old were you when you first heard electronic music and what did you fascinate about it that got you hooked for life?
I remember listening to Mike OldField and Jean Michael Jarre on a road trips with my parents.Electronic Music has been always fascinating me, but i started to create my own music when computers came out to be honest. The possibility of being able with only one machine to put together and combine all the sounds you can imagine is crazy and definitely infinite.
We at The Sound Clique are quite familiar with you, but most of the readers don't know that you`ve started your own "Vinyl Only" music label. Can you tell us a bit more about it?
Yeah, it is called FrameSounds. For now as you know is available in vinyl only, not because I only play wax, but to value more the work of the producer and music itself and of course the Sound is more organic and feels different when mixing and is a bit of a piece of art in essence with the artwork, how is made, love it….So for now, FrameSounds will be only Vinyl yep. smile emoticon
We had a little issue with our Catalogue 002 and we had to delay it but we got a very special Various Artists Compilation coming soon and is having great feedback already. We will bring lots of new and stablished artist to the label, from Javier Carballo, Javier Moreno, Lifer, Rick Maia, KOKO, Rico Cassazza, Coriesu, Roberto Martin, YoungerBros and more.
Who was your favourite DJ back then and who is your current favourite? Has your perception and taste for electronic music changed over the years?
Well I started with cassettes from local DJs from Madrid and Germany, at first i didnt know their names. I got random mixes from friends and popular clubs in Madrid at the time,, starting with Oscar Mulero, Pepo, Valera, then Richie Hawtin, Jeff Mills, Laurent Garnier, Kevin Saunderson, Kenny Larkin. There was a Club in Madrid when I was 18 in Madrid called Deep, this local dj Juan Sanchez,, playing classic house, inspired me a lot.
What were your first attempts in music? Did you start with, DJ-ing or producing music?
Well Actually i started Djing. First i got a pair of cheap decks in London when i went to Study there so i started buying Records before making music in Fact and working as a DJ also.
What kind of setup do you use when performing on stage and why?
I am using turntables and CDJs, because I have lots of new and unrealesed music that is impossible to play on wax for now.
Would you experiment as a musician by including different genres in your productions? Would you take a different direction with your music in the future?
Indeed i did and I will, i love making dance music cause I love the drive and the energy but inspire me to touch another areas and get inspiration from another perspectives and minds. I did music for contemporary dance, Art Galleries, Movies, Documentaries and other fields and i am still open to it. I am just very focus on the label and my own projects now.
If you could describe yourself and your mixing music with one song, which song would that be?
Not easy because I am not only one tune, there is a tune for every moment, so many amazing producers. In addition I make lots of music every week so …I guess that changes monthly, yearly, constantly…..but yeshhh….there are always of course timeless tunes, like Easy Lee, See you on Monday, La Paloma and other.
Would you rather attend a party with your favourite DJ, who you rarely get to listen live, or spin at your own gig in a club instead?
I love playing my own gigs chico!
When and where was your first DJ gig, ever?
I was DJing Rock&Roll and early techno, but very eclectic since I was very little in the north of Spain like in a holiday place in the country side. That was lots of fun! First parties but no pro at all, we were kids back then. Professionally I began in London, when i was 23 in a placed called Anakana Lounge, where I became the resident DJ.
What's your favourite party at which you played and why?
I loved playing in London for this party called Juntos and lately I enjoyed Sonar lots and Colombia, with my buddies from Low to High.
Which musicians/DJs inspire you?
My taste and inspiration from music is very broad. From Jazz musicians like Keith Jarret, to Electronica artists like Aphex Twin, and Colleen, a french musician, doing down tempo Electronica, which is super sick! Generally I tend to listen to all sorts of music at home, even 80's old school Hip Hop, as well as musicians and composers such as Steve Reich, Philip Glass. I love all sorts of good music. Strictly Electronic Music, one of the guys who kept it experimental and always rocking it is Ricardo Villalobos- one of my favs for sure playing house and techno, his sounds, and selection is always very cool, Margaret Dygas is super refined too, I do love Zip mixing. Other include, Steve O'Sullivan Live, Many new Romanians. Onur Ozer and of course Andrew Weatherhall.
What is the BEST mix or compilation of all times for you?
Techno wise there was this old Hawtin tape going around in the 90's that really shocked me, but it didn't had a name on it.
Which globally known DJ with who you played alongside has made a good impression on you and why?
Margaret Dygas, her way of mixing frequencies and using EQ.
What can we expect from you in 2016?
Many things, I got an EP with my buddy Shaun Reeves in Jonny White Label, from Art Department. Also I will be playing as a resident DJ in a Very magic party in Ibiza, Zoo project and in a festival in Les Alps, called CesarHof. Also I will be hosting an Event in Madrid, starting soon! I am getting ready a couple of EP's for very important labels too (FrameSounds is one of them). Lots of things going on so stay tuned!
---
Connect with Pablo Marco on Facebook and SoundCloud.