Third acts announced for Reworks Festival 2018
Third acts announced for Reworks Festival 2018. Having already announced: Nina Kraviz, Laurent Garnier, Maceo Plex, Daphni, KiNK, Agoria, Kiasmos DJ, Recondite, Mano Le Tough and Michael Mayer among others, Reworks Festival is excited to add: Matthew Herbert, Redshape, Francois X, Kangding Ray, Bjarki, Inga Mauer, Guy Andrews, Kerala Dust, Charlotte Bendiks, Viken Arman, Volkova, Paul Anthonee and Hill Of Vision to its 14th edition. 
One of the most versatile and prolific artists of our time, Matthew Herbert, will perform at Reworks 2018 for the first time. Known for a wide range of innovative projects, from numerous albums to music for movies, theater, television and radio, Herbert shaped the British approach to the Minimalism using his aesthetics and connection with House. 
The festival continues to compile a program with a global approach to the sound and names that range from legends to award winning and breakthrough artists. Having that said, another name that will shape the 14th edition of Reworks is Redshape.  His highly energetic and ever-changing live performances are always a result of pure musical improvisation. The story of Reworks also includes a key protagonist from the Paris' underground scene – Francois X. The irresistible blend of techno portrayed in his productions has established his name as a leading representative.
Bjarki is one of the most exciting names that have emerged in recent years. His music – with clear influences from Aphex Twin – is full of inventions, surprises and energy. With his unique releases Bjarki has secured his spot at Reworks Festival 2018.
The new kid on the block from from St. Petersburg Russia, Inga Mauer, is gaining attention on the scene. Her music is a seductive mix of atmospheres and dark emotions which flirt with a wide range of genres like Industrial Techno, EBM and New Wave. Kerala Dust seek to bridge the divide between electronic music and traditional songwriting, while Viken Arman is pushing the boundaries of electronic music towards the future, but also towards the past. His electronic beats are blended with ancient melodies. Guy Andrews is a London based producer known for creating textural electronic music, which combines an array of influences from post-rock, techno, ambient and afrobeat inspired genres. Having already released music on labels such as Erased Tapes and Houndstooth, Andrews is one of the most promising names.
The Hellenic Electronic Scene is presented vastly at Reworks adding three more names: Volkova, a passionate techno representative, Paul Anthonee, established DJ and producer with a numerous releases on major labels such as Suara, Lapsus etc and Hill Of Vision, an artist who takes the listener on a journey with his sets while his productions are usually defined by the deeper side of the techno spectrum.
Reworks Festival 2018 line up so far: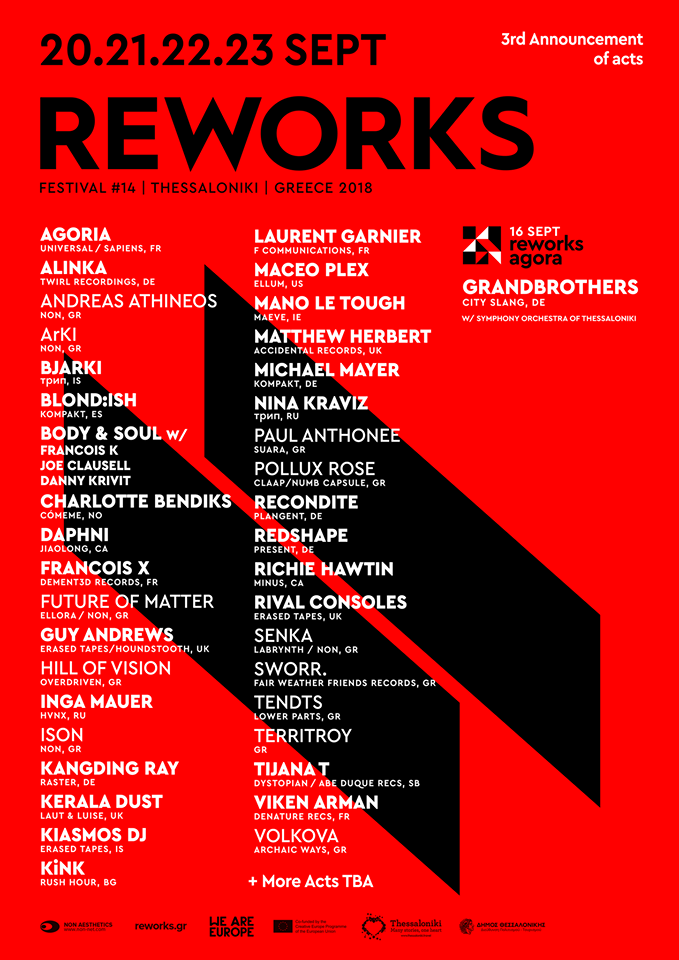 Presale tickets: https://reworks.gr/en/tickets/
---
Connect with Reworks Festival on Facebook.