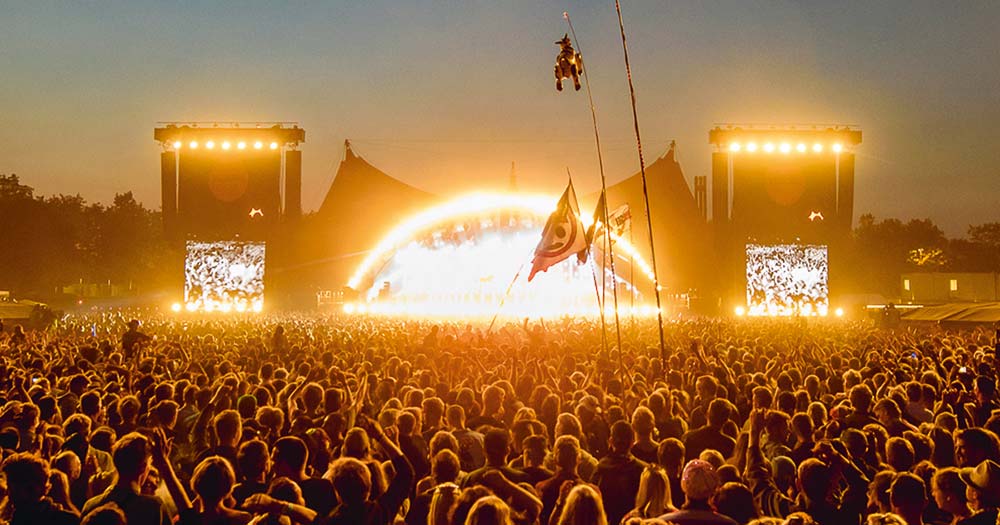 Roskilde Festival 2019 completes line-up with Underworld, DJ Koze and Jon Hopkins
Denmark's Roskilde festival 2019 completes its line-up with 67 new acts, Underworld, DJ Koze and Jon Hopkins plus a plethora of pop, rock and rap artists, writers, scientists, speakers and architects for the Arts & Activism programme. Today's new additions join a roster of over 170 acts at Northern Europe's biggest (and non-profit) festival, including The Cure, Bob Dylan, Cypress Hill, Travis Scott, Robyn, MØ, Vampire Weekend and many others, across 8 stages. 
Buy ticket for Roskilde Festival 2019
From Ghana to Greenland, from New Zealand to Norway, from Jamaica to Japan, artists of all sizes from more than 30 different countries will play the big and the small stages. Festival-goers from all over the world will party together in the name of charity when they explore the diverse music and arts programme at Roskilde Festival 2019.
Those favouring synthesizers, beats and samples will have plenty to look forward to with new announcements such as German darling DJ Koze, quirky Italian Giorgia Angiuli and noisy duo 700 Bliss consisting of DJ Haram and Moor Mother. A further exploration of the paths of weird will lead to Yves Tumor and the jazz adventures of The Comet Is Coming and Sons of Kemet XL, with saxophone hero Shabaka Hutchings leading both outfits.
They will join already announced upcoming Nordic acts such as Norway's Brenn., Copenhagen techno duo Funeral Future and Ea Kaya, one of Denmark's most promising Scandi-pop talents. These artists are all making waves in their home countries and internationally, ready to take things to the next level at Roskilde Festival. DJs representing the local Danish scene this year include Ena Cosovic, Schaarup and others. 
Arts, activism and solidarity – and particle accelerators
Art, social engagement and music are inseparable and all part of the full experience at Roskilde Festival. Hundreds of artists, writers, scientists, speakers and architects will inspire contemplation, spark debate and surprise festival-goers. This year's Arts & Activism programme includes a large-scale sculpture by renowned Swiss artist Claudia Comte and a performance by American artist Isabel Lewis.
Hannah Tocicki Anbert will conduct a silent parade in the name of unproductivity, Søren Aagaard will set up a post-apocalyptic food truck and Japanese artist Tomoko Sauvage will transform water bowls into instruments, turning water into sound.
As always, there will be plenty of street art at Roskilde Festival 2019 with a programme that includes Askew One, Bacon and Zusa.
Bringing science to the festival experience, CERN and the Niels Bohr Institute will offer workshops enabling you to make a cloud or a your very own renewable charger as well as debates on topics such as future energy.
Roskilde Festival's head of programme Anders Wahrén says:
"It feels great to finally present our programme, and Janelle Monáe is a crown jewel in a line-up I think bodes very well for our future. Not only do we have a load of great young artists of all sizes and from all corners of the earth, we also see that many of them are more socially aware than ever. From the music to the arts, debates and workshops, solidarity and activism is something that is reflected throughout our programme."
Tickets to Roskilde Festival 2019 are on sale, get yours here.  
Full festival tickets are DKK 2100 (approx. EUR 282) (including free access to camping).
Roskilde Festival 2019 lasts for eight days between Saturday 29 June and Saturday 6 July.
A total of 180 acts will play the festival's eight stages.
---
ALL ARTISTS
Wednesday 3 July
BOB DYLAN WITH HIS BAND, CARDI B
CHRISTINE AND THE QUEENS, ROSALÍA, SHECK WES, SKEPTA, TEARS FOR FEARS
BABY IN VAIN X CORPUS, CARPENTER BRUT, FARVEBLIND, GHETTO KUMBÉ, HATARI, JPEGMAFIA, MAGGIE ROGERS, PARDANS, POWER TRIP, ROLLING BLACKOUTS COASTAL FEVER, SANTROFI, SILVANA IMAM, ULVER
Thursday 4 July
TRAVIS SCOTT, MØ, ROBERT PLANT AND THE SENSATIONAL SPACE SHIFTERS
BROCKHAMPTON, JON HOPKINS, JORGE BEN JOR, TESTAMENT
AMNESIA SCANNER, ARTIGEARDIT, ASMÂA HAMZAOUI & BNAT TIMBOUKTOU, BARSELONA, BLAWAN, BOMBINO, CRACK CLOUD, CULT LEADER, DENZEL CURRY, FATOUMATA DIAWARA, FULL OF HELL & THE BODY, GIORGIA ANGIULI, JOEY PURP, JULIEN BAKER, KONSTRUKT, K-X-P, LA DISPUTE, LANKUM, LEMAITRE, LUCY DACUS, THE MAURICE LOUCA ELEPHANTINE BAND, NANOOK, NENEH CHERRY, PARQUET COURTS, SIBUSILE XABA, SPEAKER BITE ME, STELLA DONNELLY, SØREN HUSS, TIRZAH, VIOLET (DJ)
Friday 5 July
ROBYN, UNDERWORLD, VAMPIRE WEEKEND
BRING ME THE HORIZON, JOHNNY MARR, JUNGLE, SPIRITUALIZED
700 BLISS, ALDOUS HARDING, ASTRID SONNE, BAEST, BANTOU MENTALE, BLACK MIDI, DAWDA JORBATEH FEAT. CTM, DESCARTES A KANT, EMILY DUST (DJ), THE GARIFUNA COLLECTIVE, HEAVE BLOOD & DIE, HUGO HELMIG, INNA DE YARD, JADA, JULIA HOLTER, KARKHANA, LOWLY, LYDMOR, MISERY INDEX, NICOLA CRUZ, OCTAVIAN, RIVAL CONSOLES, ROSS FROM FRIENDS, SAWEETIE, SONS OF KEMET XL, SOPHIE, SUSHI X KOBE, THROWING SNOW, WEYES BLOOD, YVES TUMOR
Saturday 6 July
THE CURE, JANELLE MONÁE
BEHEMOTH, CYPRESS HILL, JORJA SMITH, MARINA, NOEL GALLAGHER'S HIGH FLYING BIRDS, SCARLET PLEASURE
ALMA, THE ARMED, BIKSTOK, CATFISH AND THE BOTTLEMEN, CLAN CAIMÁN, THE COMET IS COMING, CONVERGE, CROATIAN AMOR, DJ KOZE, ENA COSOVIC (DJ), FLOHIO, GAYE SU AKYOL, GIRLPOOL, ÌFÉ, KHRUANGBIN, KIKAGAKU MOYO, KOFFEE AND THE RAGGAMUFFINS BAND, LA PAYARA, LIRAZ, NAKHANE, PHILIP H. ANSELMO & THE ILLEGALS, SAZ'ISO, SOFIANE SAIDI & MAZALDA, TÁSSIA REIS, WHORES., ZEITKRATZER
Talent stages Rising and Countdown (1-3 July)
ALKYMIST / ARRE! ARRE! / AUÐUR / BOUNDARIES / BRENN. / CHARLOTTE BENDIKS / COLLIDER / DISCOSHAMAN / EA KAYA / ELBA / FLEXLIKEKEV / FUNERAL FUTURE / GIRLCRUSH / GULLO GULLO / HEARTBREAK SATELLITE / HJALMER / HJALTE ROSS / HÔY LA / IPEK YOLU / JOSIAH / KONDER / KOGEKUNST / KONVENT / KOPS / LIL HALIMA / LINN KOCH-EMMERY / M. REXEN / MALL GIRL / MAMBE & DANOCHILANGO / NATKAT / NURI / RAVI KUMA / REBECCA LOU / ROSEGOLD / SCHACKE / SCHAARUP (DJ) / SELMA JUDITH / SHAMBS X FARLI' X B WOOD$ X / BRACY DOLL / SHATTER HANDS (DJ) / SMOKEY (DJ) / SØN / THIRD WIFE / XENOBLIGHT / Z.E / ZAAR
---
See more on Roskilde Festival's official website.